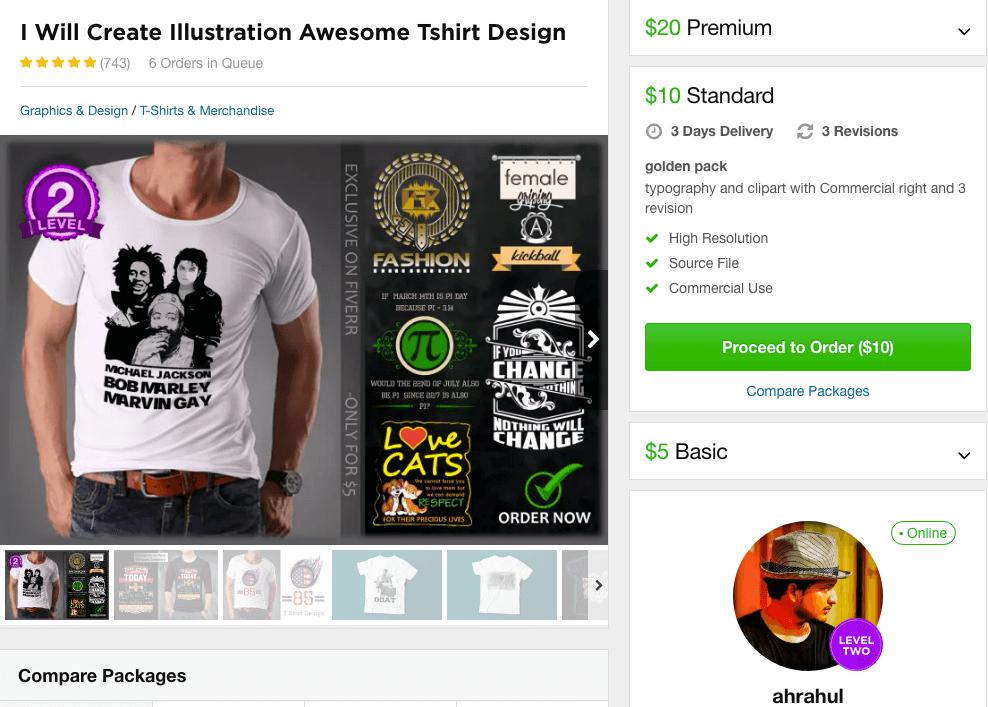 Outsourcing T-Shirt Designs: Tips For Finding Great T-Shirt Designers
The Print-On-Demand craze is still very much at large. Shoppers are as hungry as ever for unique t-shirts and us sellers have more ways to get in front of their eyes.
Many of us have big ambitions for our brands. We want to scale our business to increase revenue while reducing our workload. If you're still producing all your t-shirt designs yourself, you know how much time and energy it takes. Now imagine producing double the amount? No thanks!
You can't be a one-man-army forever. Building a team and leveraging freelance t-shirt designers is crucial for further growth. Having someone do all the hard work designing t-shirts while you sell them sounds great right?
But finding the right freelance t-shirt designer becomes a task in itself. You'll need to vet them carefully to ensure they can produce profitable designs at reasonable prices. After all, these t-shirt designs will make or break your business.
The last thing you want is to lose time and money getting shoddy designs that no one wants to buy. Nor do you want to constantly run through different graphic designers while running your business.
That's why today we're sharing our top tips for finding freelance t-shirt designers. That way you can forge long-term working relationships and scale your brand to your heart's content. Now let's get going!
What You Need to Know About Outsourcing T-Shirt Designs
1. Going Cheap Can Cost You More!

Outsourcing work to t-shirt designers from around the world provides us with an opportunity to leverage cheap labor. Since we rely on volume selling to make good revenue, dirt-cheap t-shirt designs can sound like a great idea. However as is often the case, their services may be cheap for a reason.
The designs they produce could be shoddy, rushed and half-assed. Or worse, they may be copied while claiming to be original.
In the case of the latter, you could find yourself in a whole heap of trouble. Your t-shirts could be removed from marketplaces, your account banned and reputation burned.
Here's how to avoid getting blinded by greed and working with risky designers:
Don't focus on price first. Start by looking for designers that meet your standards of quality and styles that fit your brand. Searching for reliable designers who are suitable for building longer working relationships with.
Work out what you can actually afford to pay. Run the numbers and work out what you can realistically afford to pay. Remember, on-going work and volume opens doors to negotiations.
Focusing on fewer, higher-quality and wildly popular designs? You should invest more per design to get a skilled freelancer.
Focusing on lots of quick, simple designs and fun designs? You should find someone who is cheaper but can still produce designs that are up to scratch.
2. Don't Forget to Check the Fine Print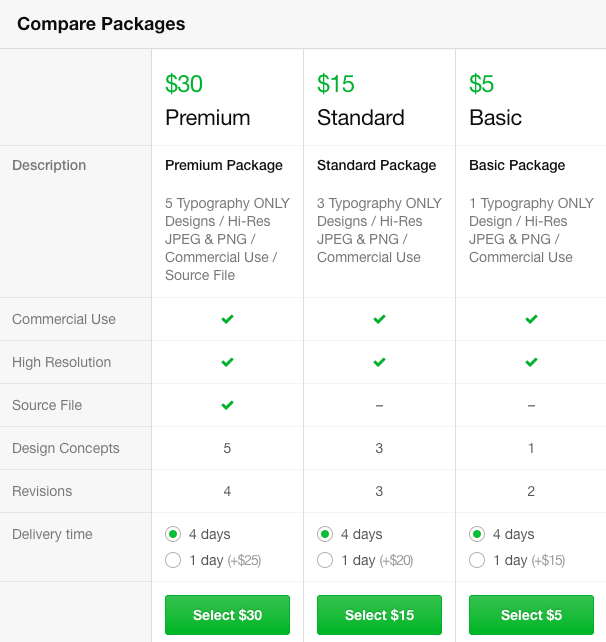 If pricing looks a little too good to be true, it usually is.
When searching on Fiverr, you'll notice many t-shirt designs can be had for only $5. But you've got to check if there are any extra fees for final high-quality, source files or licensing.
Designs you purchase must come with a commercial use or extended use license. Many designers may wish to retain legal ownership of designs through Copyright.
It's up to you to check and ask questions before buying and reselling these designs as your own. Without the correct licensing agreement in place, reselling these designs could land you in trouble again. Takedown requests or even removal from t-shirt markets will happen if you infringe their copyright.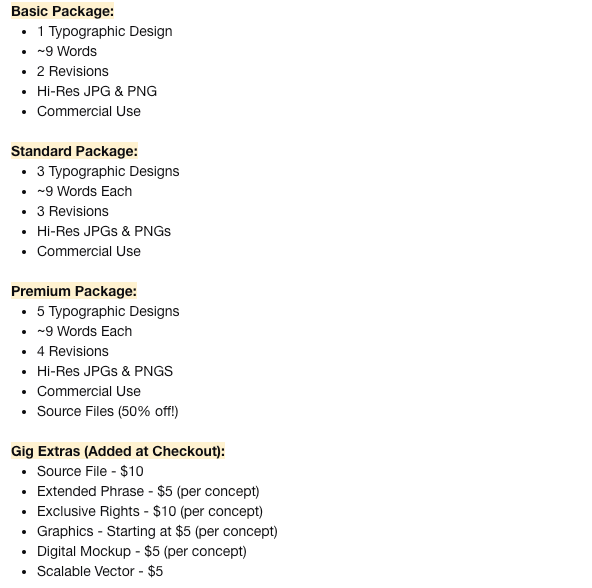 Here's how to avoid any misunderstandings or potential problems:
Check the terms and conditions. Check the price your paying includes everything you need, from quality to copyright or extended licenses for re-selling. Never simply assume.
Ask questions to get assurance. If you're unsure then tell the designers exactly how you wish to use these designs. They'll quickly let you know what you can and cannot do with their work.
3. Briefing Your T-Shirt Designers is Crucial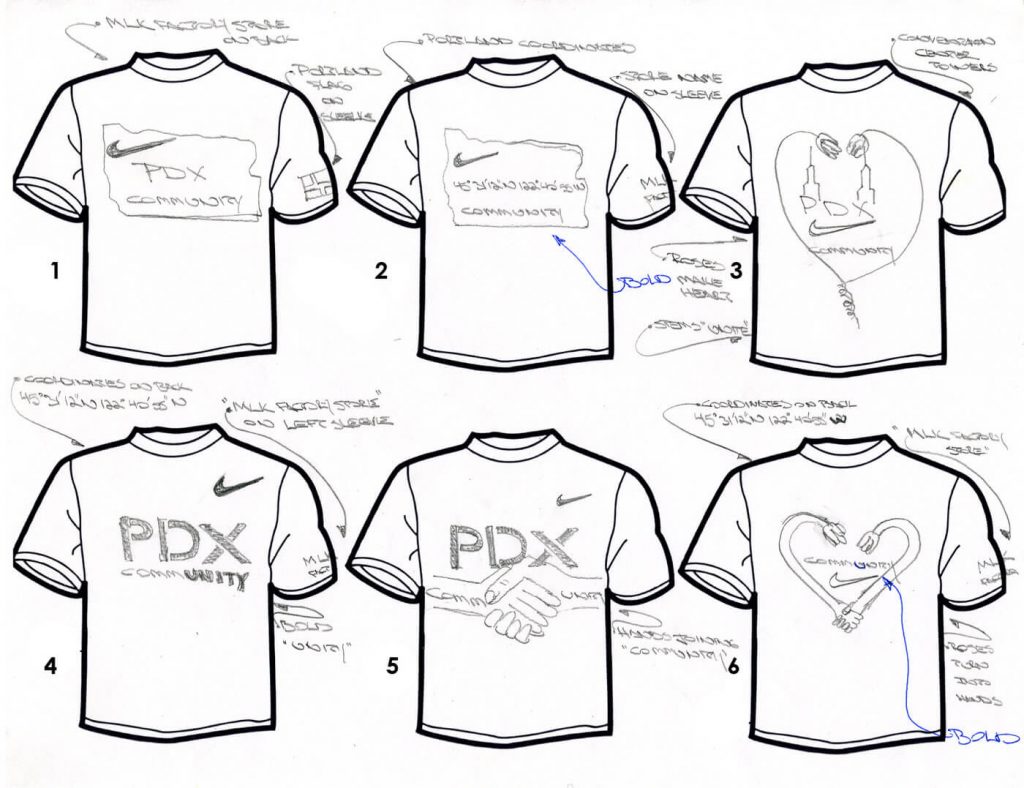 Just because you are outsourcing your t-shirt designs don't mean you are getting someone else to build your brand. Designers will not necessarily understand your market, brand image or marketing messages. It's up to you to brief them as best you can so they can develop the best designs for your brand.
You're only paying for graphic design skills, not brand building creativity and vision. Your ability to communicate your own ideas and concepts will have a great influence on the final designs.
Briefing your t-shirt designers will enable them to produce better designs more easily. They'll be grateful and you'll be happier with the results!
Here are some tips for briefing your freelance graphic designers:
Provide plenty of information. Especially when using designers from other countries, they'll need more guidance on your specific requirements. Provide as much contextual information as possible, the more explicit the better. Consider including the following:
Simple sketches or rough designs
Reference images
Colors
Written description of concept
Examples of similar designs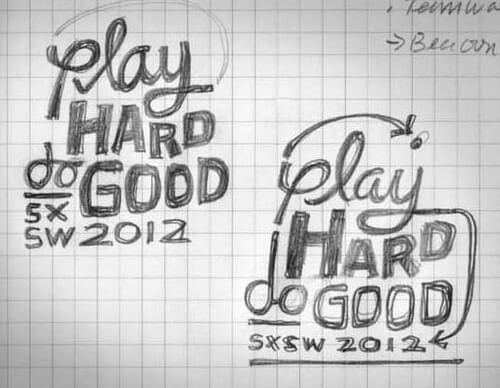 Show them YOUR vision. T-shirt designers will produce designs based on your guidance. It's up to you to share your imagination so they can help you bring it to life. It's in your interest to come up with ideas that sell like hotcakes, but designers are simply producing designs for their clients.
If you want someone to provide all the creative juice too, you'll need to pay a lot more for it. But really, you shouldn't be looking to outsource the soul of your brand to another person.
4. Vet Potential Freelance T-Shirt Designers Carefully

At the end of the day, you're the only one responsible for your business. Freelancers are only responsible for producing work as per instructions (although that's not always guaranteed either!).
If you launch a new design only to realize there has been a mistake you missed or it infringes someone's Intellectual Property, you are the only one who will answer for it. If your designs don't sell because they suck, that's on you too.
Here are some more tips for vetting potential freelancer t-shirt designers before contacting them:
Check their reputation. Every freelancer marketplace will have a feedback or reputation system. Instead of taking chances on unknowns, look for freelancers that have been vouched for by their previous clients. Look for repeated comments/phrases to learn what it's like to work with them.
Look at their previous work. If previous work is available to be viewed, you definitely want to check it carefully. Set your expectations based on what they've produced for others. Would you be happy to receive these designs?
Looking for Skilled, Affordable T-Shirt Designers?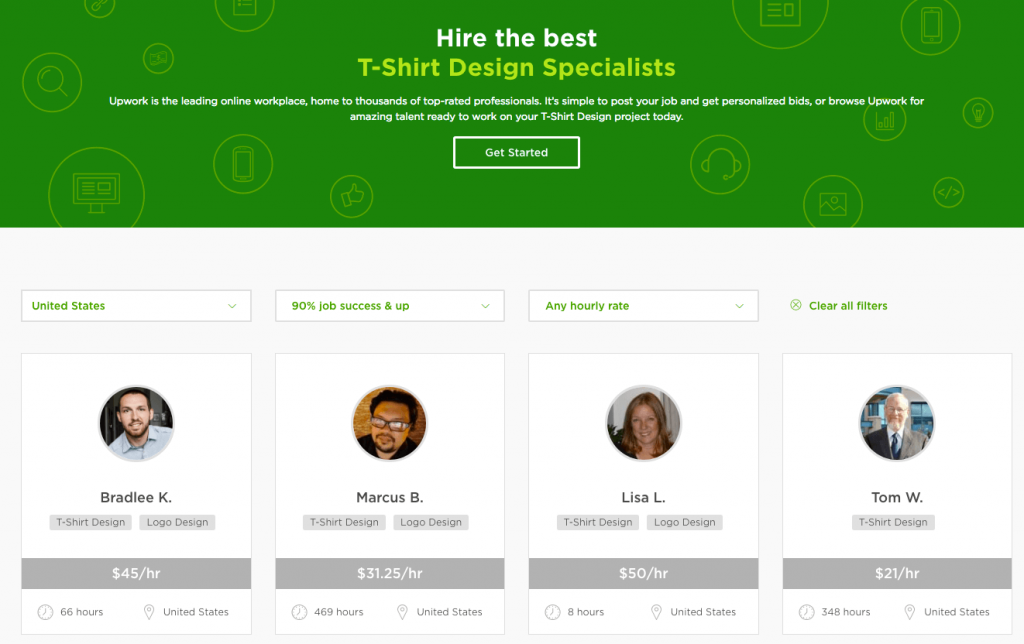 To help you get going with your search, here are our favorite places to looking for affordable t-shirt designers:
Outsourcing T-Shirt Designs Summary
In the beginning, this may require more work than actually doing it yourself. But once they are educated on your branding and briefed on your designs, you'll have yourself a golden goose.
Remember to vet them well, make communications very clear and forge a long-term working relationship.  Once you've locked down a great t-shirt designer you can start scaling your brand to new heights!