Best T-Shirt Selling Sites
Are you an artist with a talent for logo design or clothing artwork? Do you have an intriguing and innovative T-shirt idea you want to design and sell? Or do you just enjoy purchasing awesome T-shirts for yourself or someone you love? Regardless of what your intentions or desires are, there are some great places for amateur, yet innovative artists to design their T-shirt ideas so that customers looking for a new, one-of-a-kind T-shirt can buy them.
T-shirt selling sites have become curiously and somewhat unprecedentedly popular on the internet. However, with so many websites on which to post your designs, it can be difficult to decide which ones are the best. Likewise, for a customer it can be difficult for one to understand where to buy T-shirts that actually deliver high quality products. Well, look no further! Here are some of the best T-shirt selling websites to help both buyer and seller make that decision a little easier.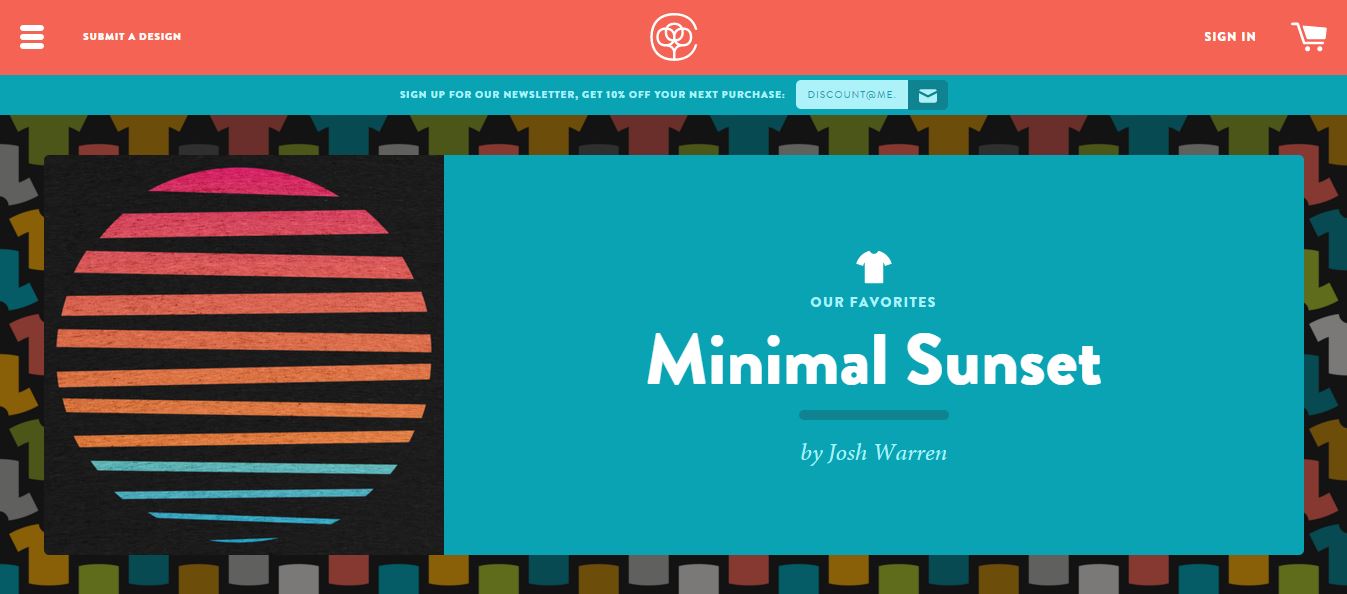 Cotton Bureau was the brainchild of Jay Fanelli and is comprisezad of an incredibly talented 4-person team of veteran T-shirt designers. Jay was the founder of UP (United Pixelworkers), which closed up shop after 5 years in business. He brought his 4 person crew over from UP and started a new company with a fresh and more innovative approach to stand out from the rest of the T-shirt companies.
Jay wanted to attract potential designers by using a game aspect instead of a 'design your own T-shirt to get rich quick!' strategy. He also only uses high quality T-shirts made in the USA.
The Cotton Bureau team receives, on average, about 200 design submissions every month. Of those 200 designs, only about 50 or so are chosen to be featured on their site. If a design sells twelve shirts, it gets printed and sent out to customers. If a design sells over 25 shirts, the designer gets a cut of the profit from the sales of their shirt.
A short-sleeve T-shirt from Cotton Bureau sells for $27, which is quite a bit more expensive than what you find at other companies. However, you are getting a premium-quality shirt that isn't going to disintegrate in the wash.
Cotton Bureau's website is clean and uncluttered. You don't have to wade through hundreds of T-shirt submissions before you find a decent one. They have a great selection of 'techie' shirts. Also, if you sign up for their newsletter you will receive a coupon code for 10% off your 1st purchase.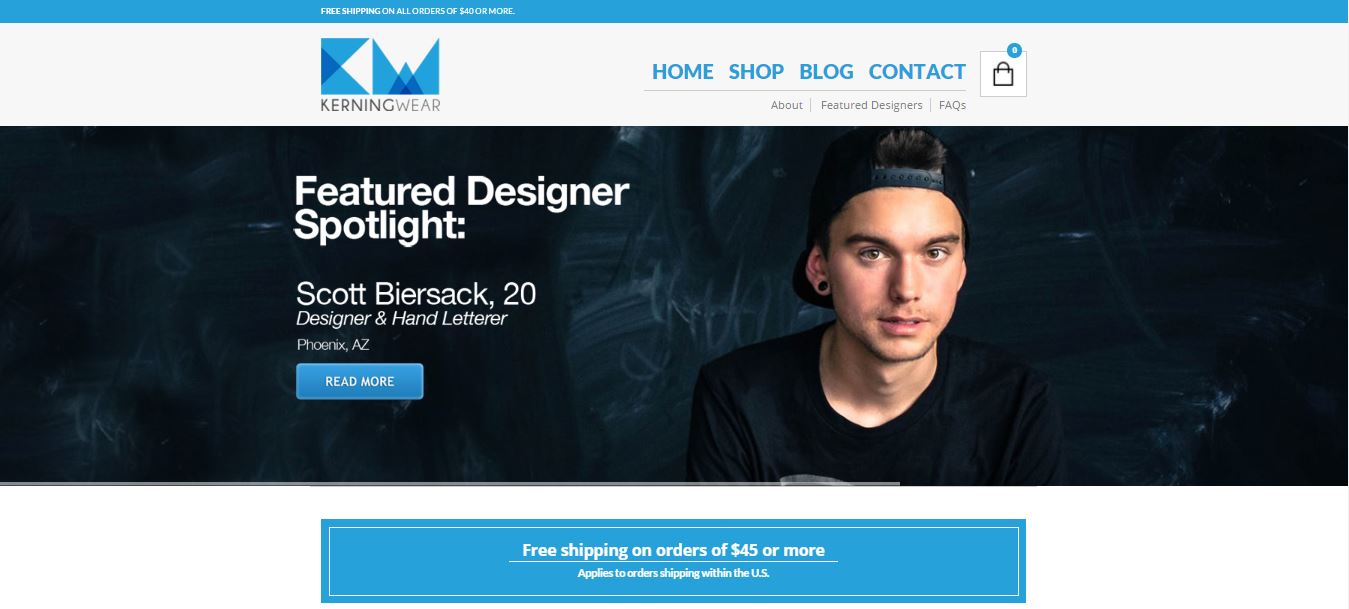 KerningWear touts itself as being a lifestyle brand for designers by designers. It distinguishes itself from many of its counterparts by only accepting top-quality designs.
On the KerningWear website, you will not find T-shirts with sports, political puns, or things related to anything other than being a creative and/or designer. At any given time you will find a selection of 15 T-shirt designs that rotate based on sales.
Another unique feature of KerningWear is their designer profiles. They give you the background and short bio of each of their featured designers. It also allows you to see designs specific to that designer.

Typography Shop was created by typography aficionado and painter, Patrick King. Since 2008, he has been building a loyal following of customers, and building a sense of community through his social media channels. The social media site with the most interaction is Flickr. Typography Shop's Flickr page has contests, discussions, and over 200 fan photos.
The T-shirts on Typography Shop are word puns and font based. They offer other things besides shirts, including their popular silk screened posters and mugs.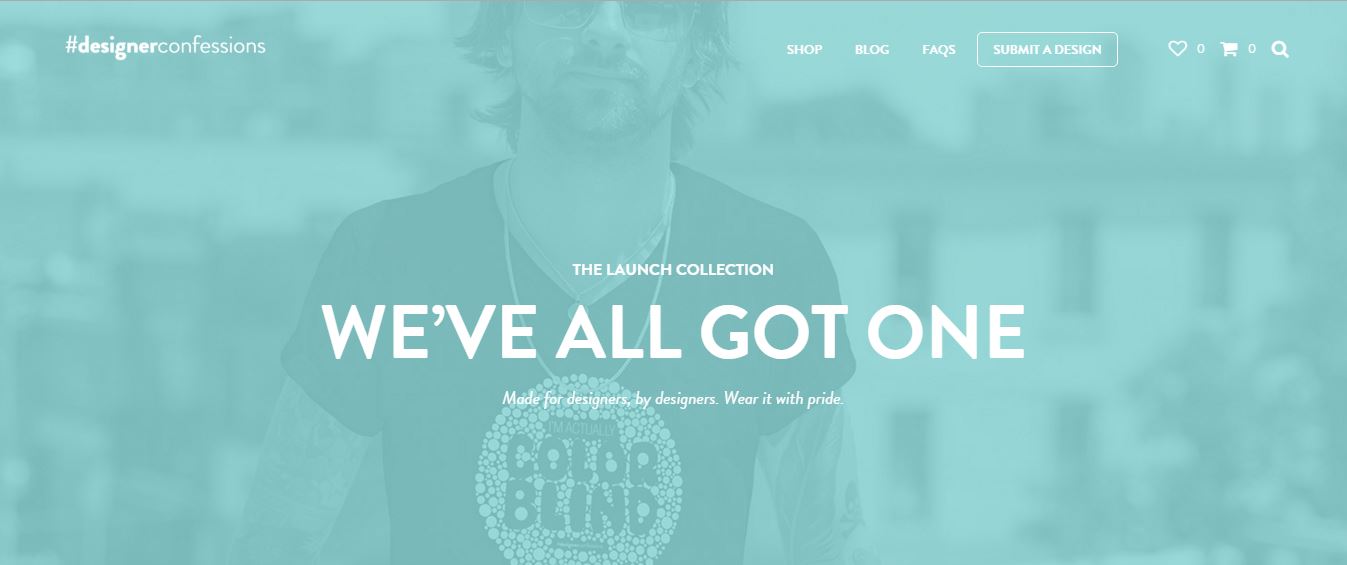 Inspired by a humorous post made on creativemarket.com, Designer Confessions is completely devoted to selling funny shirts with confessions from designers with a guilty conscience. Featuring humorous sayings that express guilt or admission to design failures. While it may seem a bit weird, Designer Confessions' T-shirts have really hit home with customers.
The T-shirts are on the more expensive side ($28) but they only use American Apparel's 100% fine jersey cotton shirts which are super soft and durable. Even if you're not a designer, these shirts are hilarious.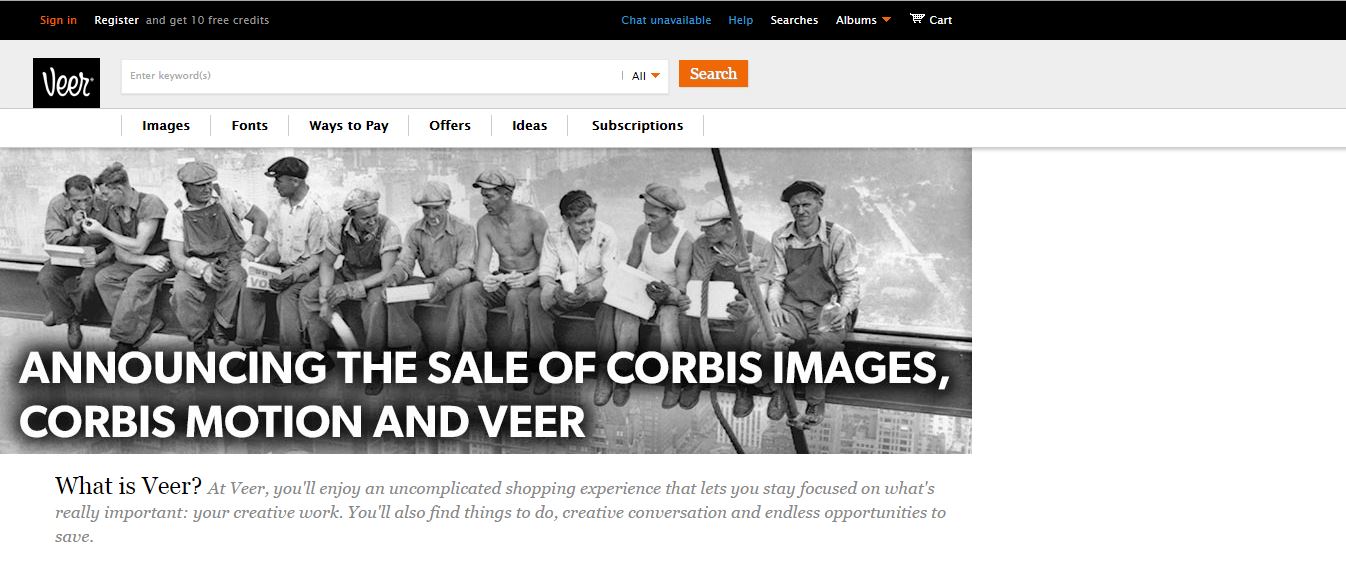 Veer is all about creating T-shirts that people can understand and appreciate. They do a pretty good job, too. When you purchase from Veer, you get to design the T-shirt according to your exact specifications.
When you design your shirt, you pay as you go. You'll start with a basic T-shirt and start adding words, different fonts, graphics, borders, etc. Each addition will have a cost attached. When you've finished your T-shirt it will calculate everything up and give you a total. If you have a simple design in mind, this might be a great, cost-effective idea; however, a more intricate design with lots of graphics could end up costing more than you would like to spend.
If you plan on creating shirts regularly, Veer offers subscription plans that allow you access to exclusive graphics and fonts which you can then use on your creations. Subscriptions range from $229/month to $2,388/month.
Sevenly is a great company with a goal to inspire and change the world. They focus on high-quality material and help fund non-profits and social causes, such as anti-bullying campaigns and inner city music programs.
Purchasing from Sevenly means that a portion of your money will go directly to charity, something not easily passed up. But aside from their good intentions and charitability, Sevenly offers super cute clothes for women and men. Sevenly sets itself apart from the competition with their wide range of styles, ranging from a  half sleeve V neck to a vintage slouch style.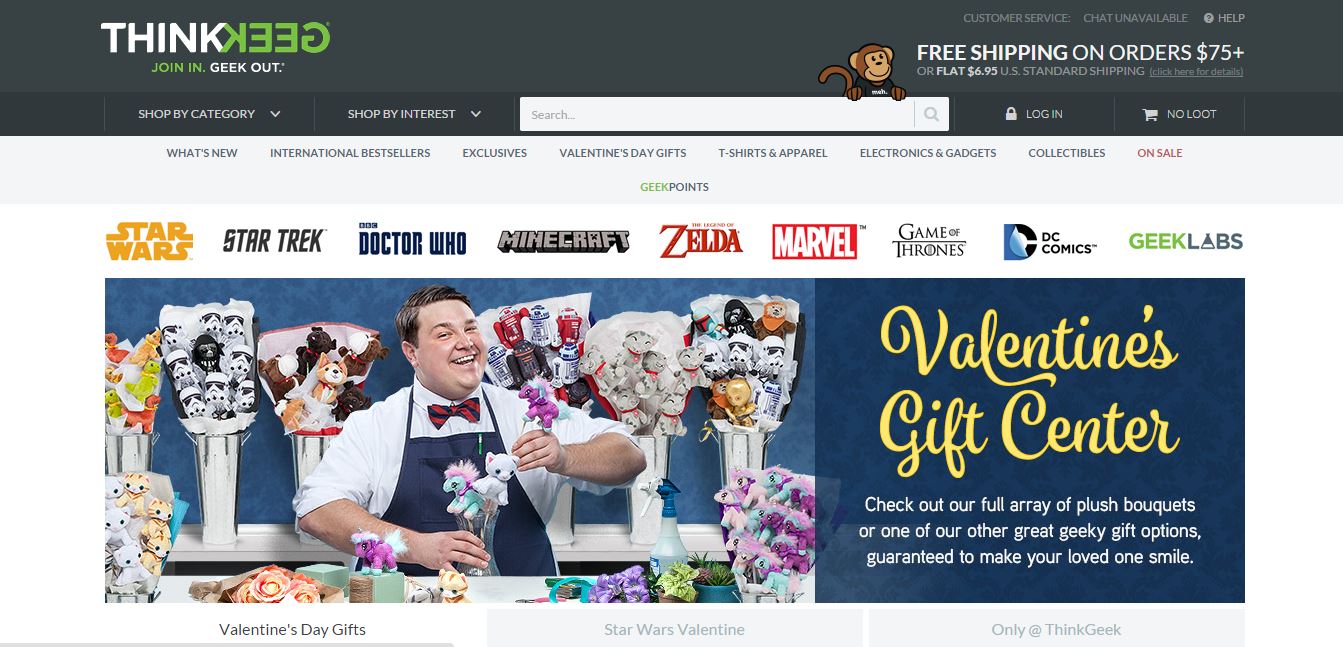 ThinkGeek is definitely not just a T-shirt company. They offer everything from bookends to wearable Megaman helmets. They also have an impressive selection of T-shirts, and the quality is top-notch. From pop culture, intelligent humor, to downright cheesy.
ThinkGeek has a huge following on social media, including having over 1.2 million likes on Facebook! Posting educational and entertaining articles pertaining to all things geeky and fan interaction have definitely set them miles apart from the competition.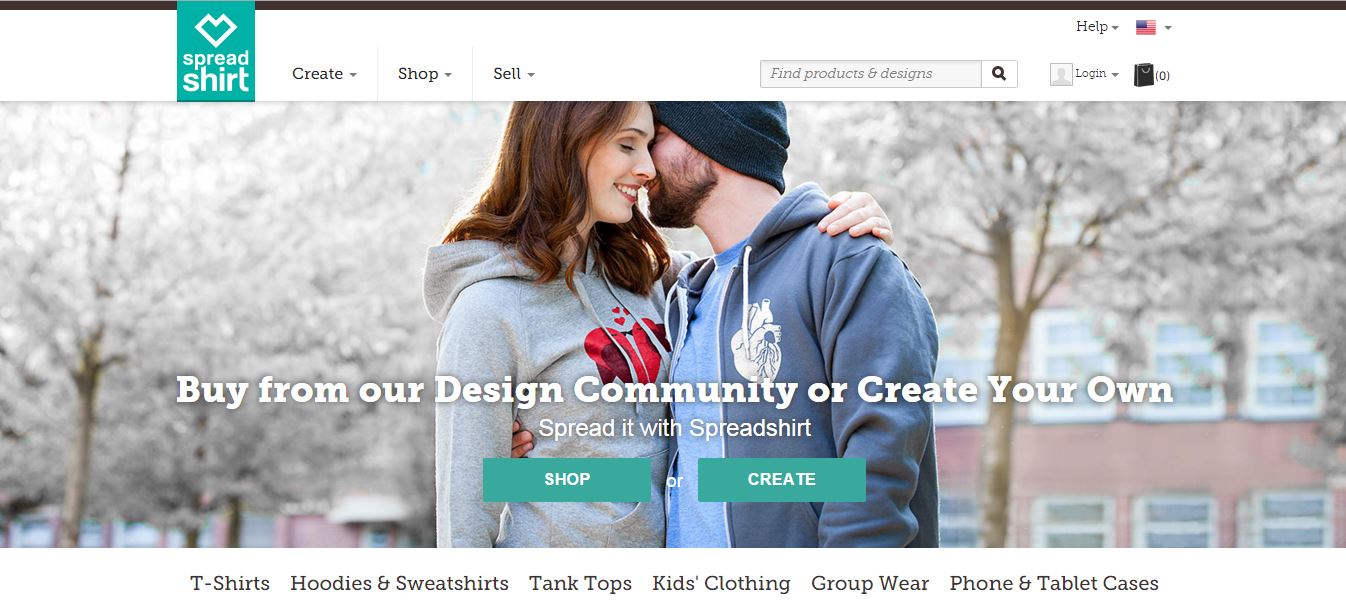 For those looking to earn money for a cause/or charity, Spreadshirt is a great site.
Spreadshirt offers an incredible selection of high quality T-shirts that you are able to put your design on. You set your price and then you'll receive a custom link to giveto friends and family to purchase the shirts, and support your cause!
Spreadshirt offers bulk volume discounts if you are designing T-shirts for a sports team, club, or just looking to purchase six or more shirts. They also have a sales section on their site where you can nab awesome shirts at 50% off or more!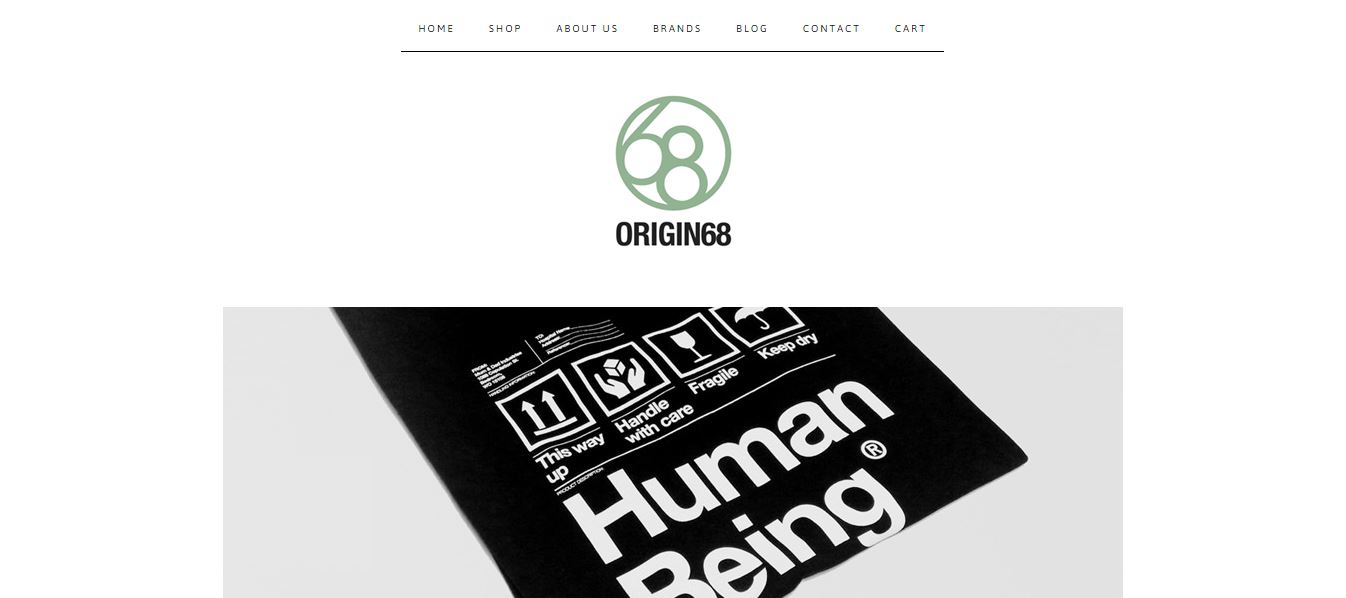 If you consider yourself environmentally conscious, then this is the place for you. Origin 68 started out as a small company founded by two brothers from Manchester. All their T-shirt designs are made by hand and with recycled materials, making this the place to shop if you want to do a favor for the environment.
Their t-shirts are extremely expressive and very cute. They offer top quality materials at an affordable price, all while being superbly eco-friendly.
The Origin 68 website is a beautiful design. It's elegant and upscale, but unpretentious. The layout is clean and the color scheme is perfect. Origin 68 is a breath of fresh air out there in the over-saturated T-shirt market.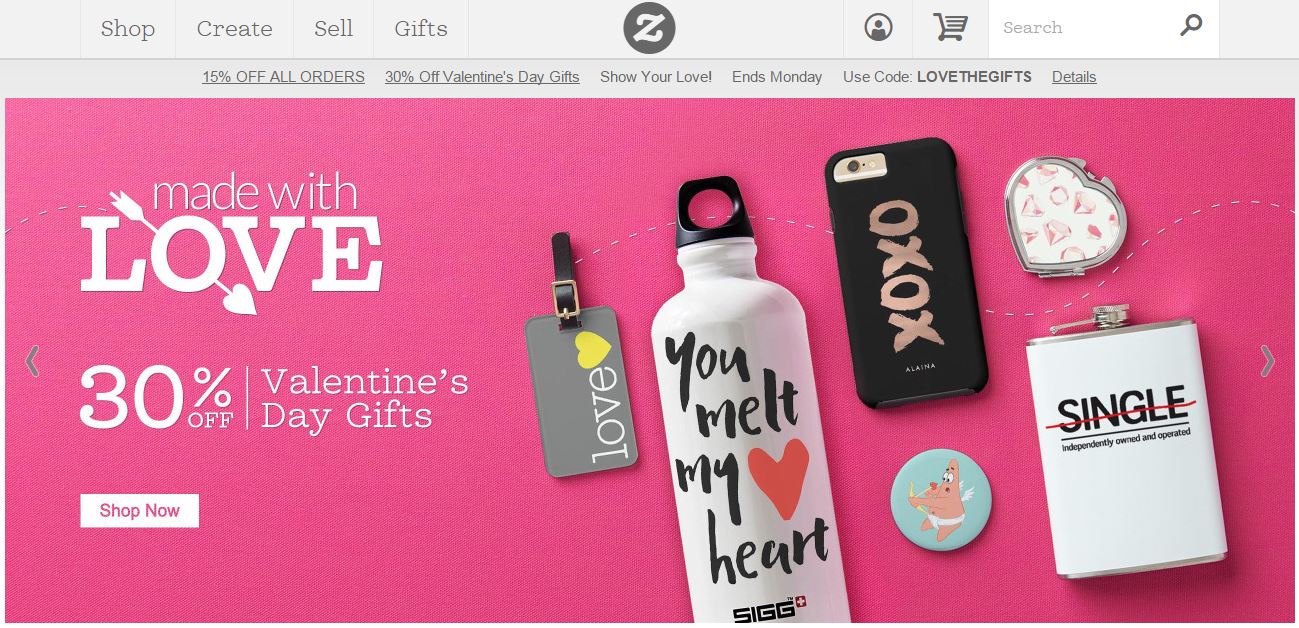 Zazzle has an impressive library of brilliantly designed T-shirts. You will be able to find something for everyone. Zazzle allows users to create their own T-shirts and sell them, or just buy one for themselves.
This is a great place for designers and customers to get top-quality T-shirts at an affordable price. It's a bit of challenge to make your way through a seemingless endless amount of poorly designed creations; it's very similar to being at a yard sale where you have to go through piles of clothes before you stumble across a gem. The gems are in there, you just have to hunt a little to find them.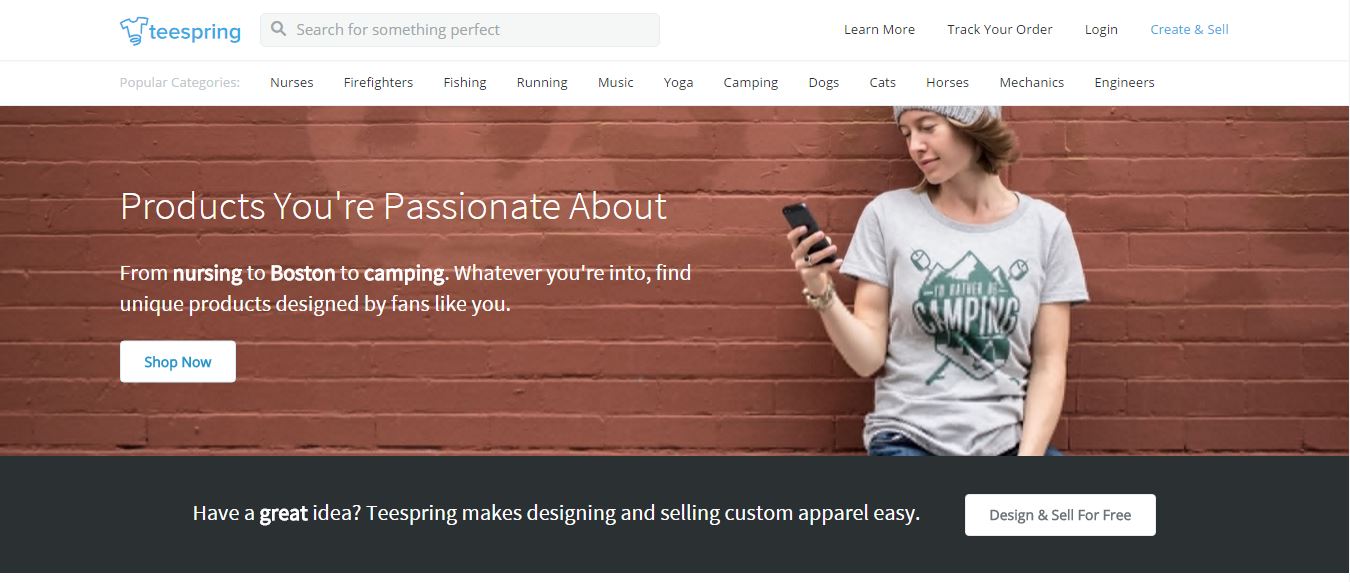 Founded in 2012, Teespring prides itself in creating a sense of community among its designers and customers. The Teespring team is always coming up with contests and interactions over social media that inspire and cultivate new designers. Everything from humorous, to inspirational, to politically incorrect are offered on high-quality T-shirts or hoodies. The designs are only available for a set number of days. If you see something you like and it's in your size, act quickly, as they have a limited supply.
Teespring also offers limited edition T-shirts that it will donate 100% of the profit from, such as The Granite Mountain Hotshots Crew T-shirt. The Granite Mountain Hotshots were an elite group of firefighters that lost their lives on June 30th, 2013 battling a massive forest fire.
Teespring prides itself on its customer service and its social media presence. They have almost 800,000 likes on Facebook and regularly post fan photos.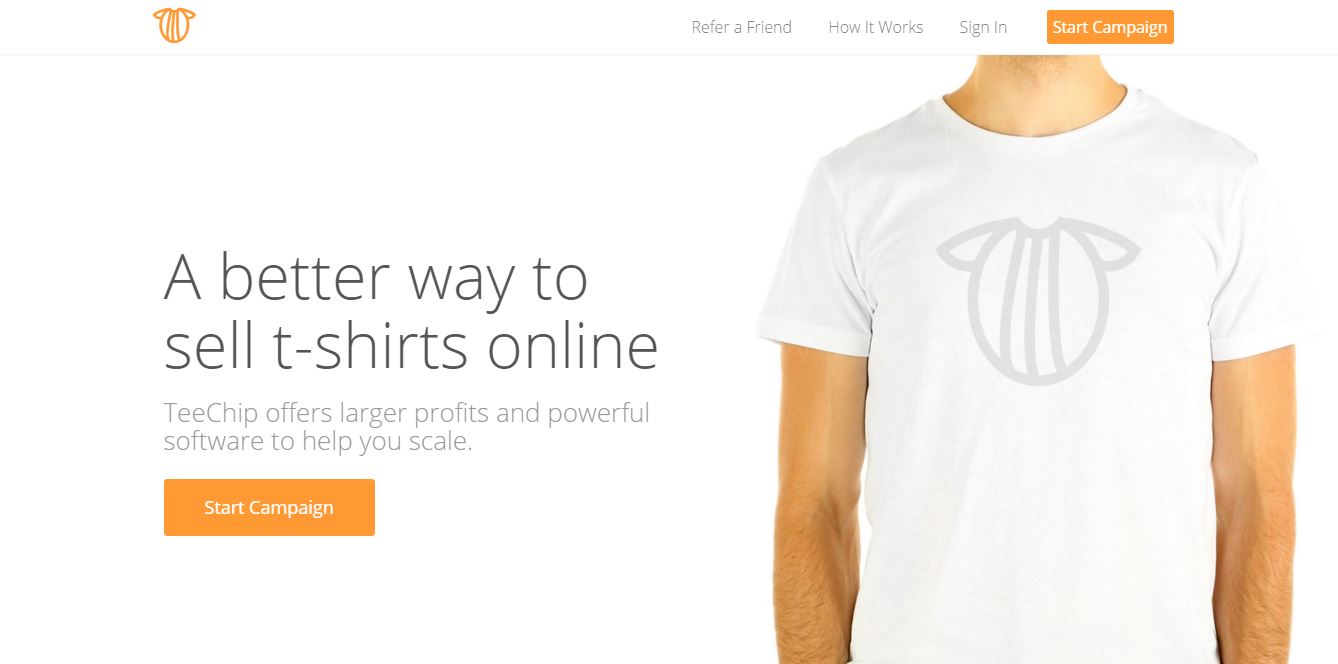 Teechip is a great avenue for those wanting to raise money for a cause such as 'Habitat for Humanity'. They give the most bang for your buck in terms of profit, and unlike other T-shirt places, there is no minimum order.
Good quality T-shirts are only a small portion of their product lineup. Teechip offers mugs, phone cases, hoodies, and more. What's better than shopping for a cool new T-shirt? Shopping for a cool new T-shirt that supports a good cause!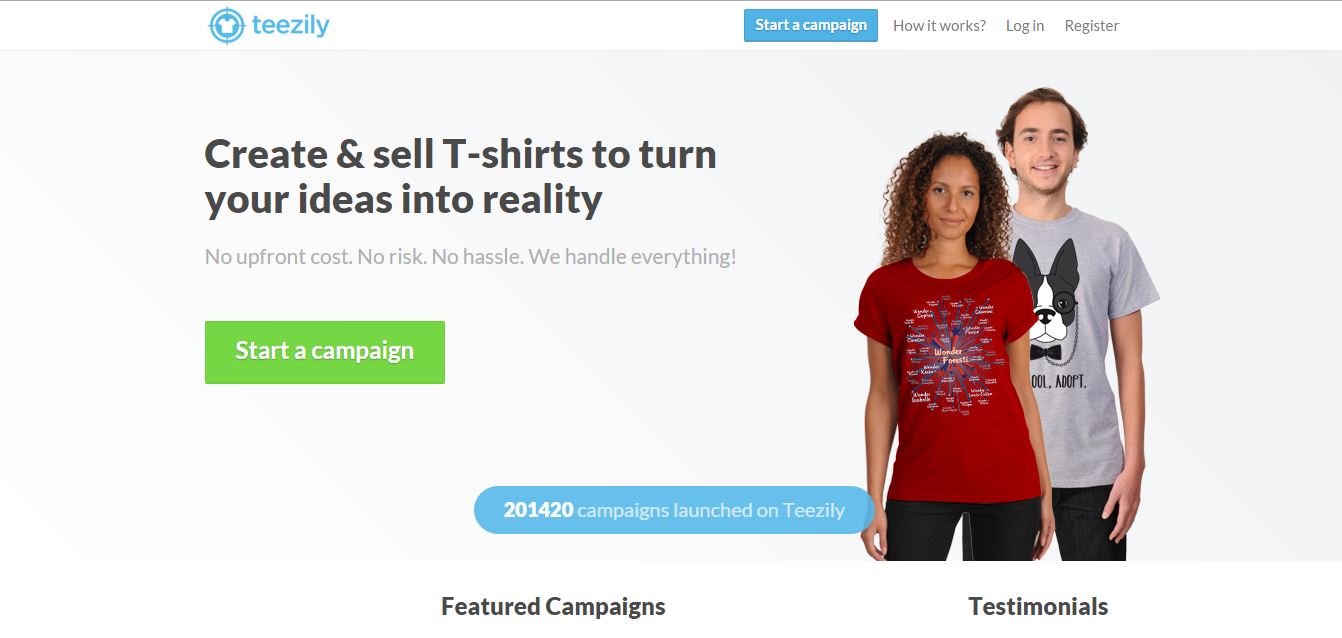 Teezily offers unique designs that are created by either users, or through a collaboration between users and Teezily's graphic design team. Yes, if a designer is lacking inspiration, they can contact Teezily to help come up with a one-of-a-kind design. Products are created and shipped from France only if the designer's sales goal is met (it's different for every design).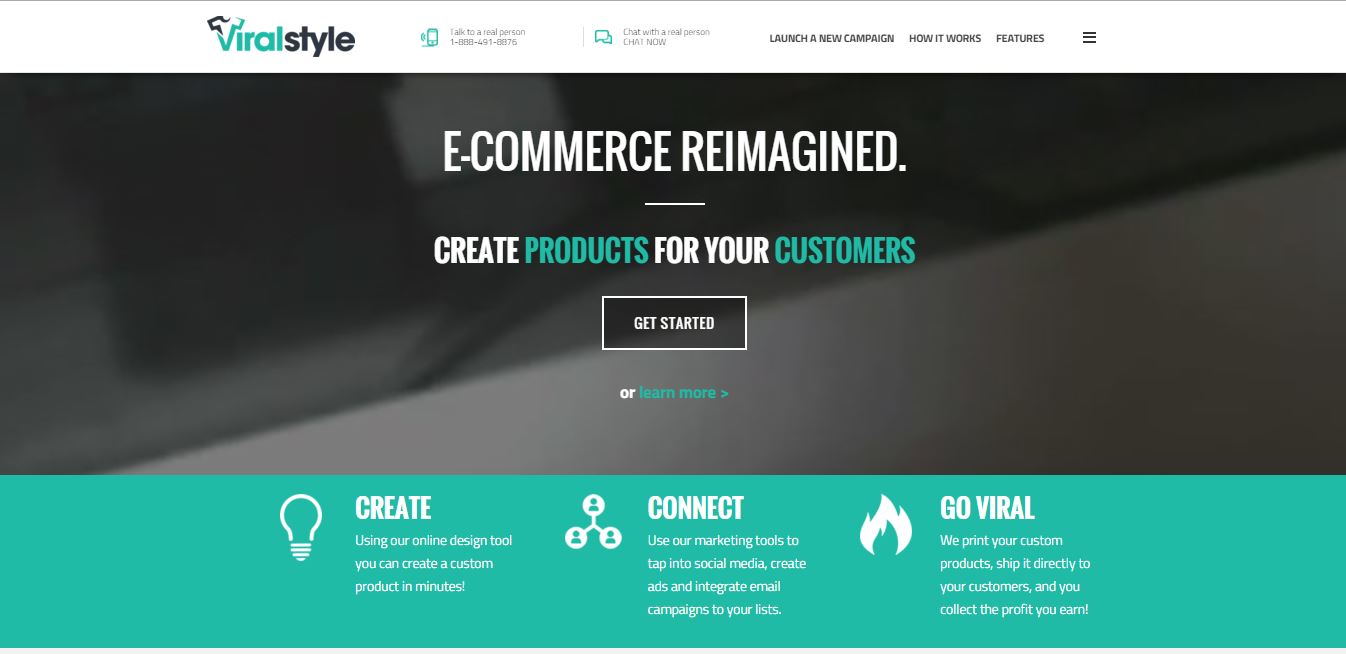 Viral Style has an extensive product lineup and offers convenient features, such as shopping over Facebook and being able to checkout with your Amazon account. Viral Style merges high-quality, highly-customizable products with a customer-friendly shopping experience. The T-shirt range offers modern designs and classic cuts as well as various sleeve lengths.
For the designer, it offers advanced templates for creating, automatic upselling when the customer begins the checkout process, and a customizable storefront. For the buyer, it offers convenient checkout options, high-quality T-shirts, and a large selection to choose from.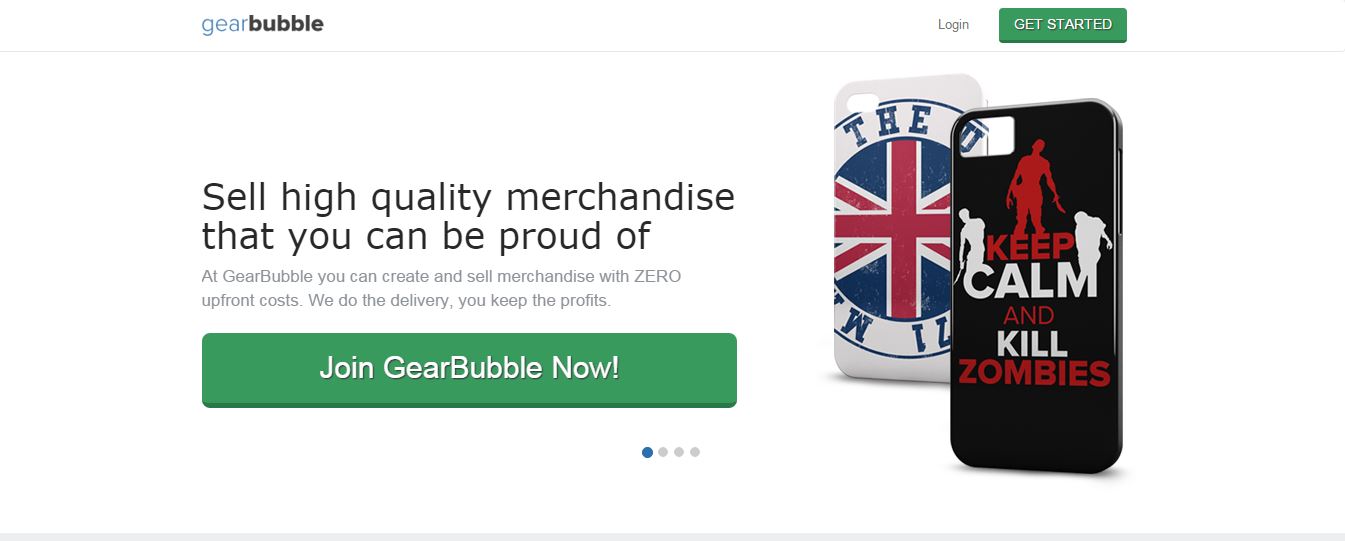 GearBubble offers contemporary T-shirt styles with one-of-a-kind designs, as well as a host of other products, including necklaces, mugs, and phone cases. High-quality products, really creative designs, and innovation put GearBubble at the forefront of being a one-stop shop for all your T-shirt and other customizable gift needs.
An awesome perk for designers on GearBubble is the availability of the expert in-house design team that will help tweak your design and give you feedback before you put it up for sale. They have a really strong community-minded platform and their customer service is top-notch.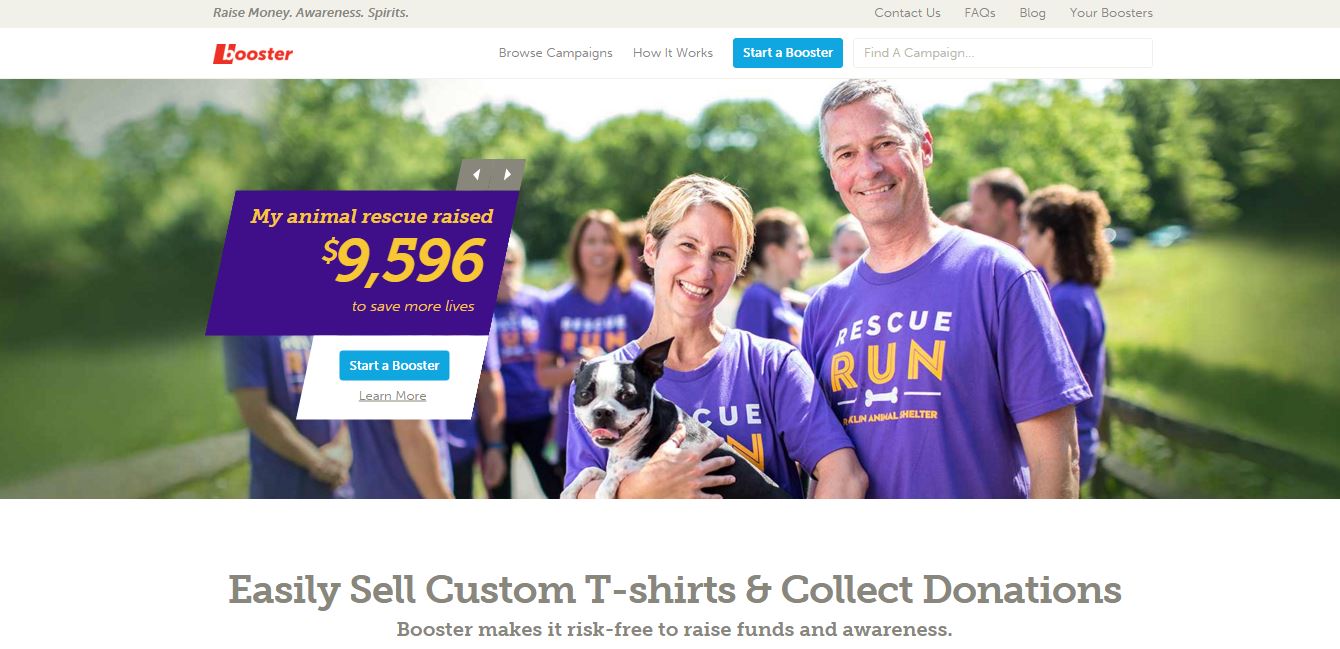 Booster is the offspring of CustomInk. CustomInk has been around since 1999 when 4 college roommates got together and with an innovative idea and savvy business plan created what is now one of the leading custom apparel companies in the world.
Booster provides designers an incredible array of graphics and fonts. It also provides marketing ideas and materials to jump start and make any campaign a success.
One very unique feature that is highly entertaining is the CustomInk live customer review page. It has reviews from CustomInk as well as Booster and as strange as it may sound, it is really fun reading!

In 2015, Amazon surpassed Walmart to become the #1 retail store in the world. So it should come as no surprise that they have an absolutely incredible inventory of T-shirts. Everything from your everyday basic Fruit of the Loom, to humorous shirts by Buzz Shirts.
Amazon sellers rely quite a bit on customer reviews to stand out in the overcrowded Amazon T-shirt community. There is a high demand for T-shirts and buyers are in the driver's seat. Having buyers in the driver's seat is great because sellers must stay on top of their game and continuously provide buyers with innovative, fun designs and quality shirts.
There are a ton of T-shirt websites out there, which can make it difficult for designers and customers to figure out what they want and from whom they want it. Hopefully, our list has made this chore a heck of a lot easier. All of the aforementioned stores offer great quality items at an affordable price.
If you are looking for a T-shirt with a particular design or graphic, and you can't find it at one of these stores, create it! If you can dream it up, it can be created.