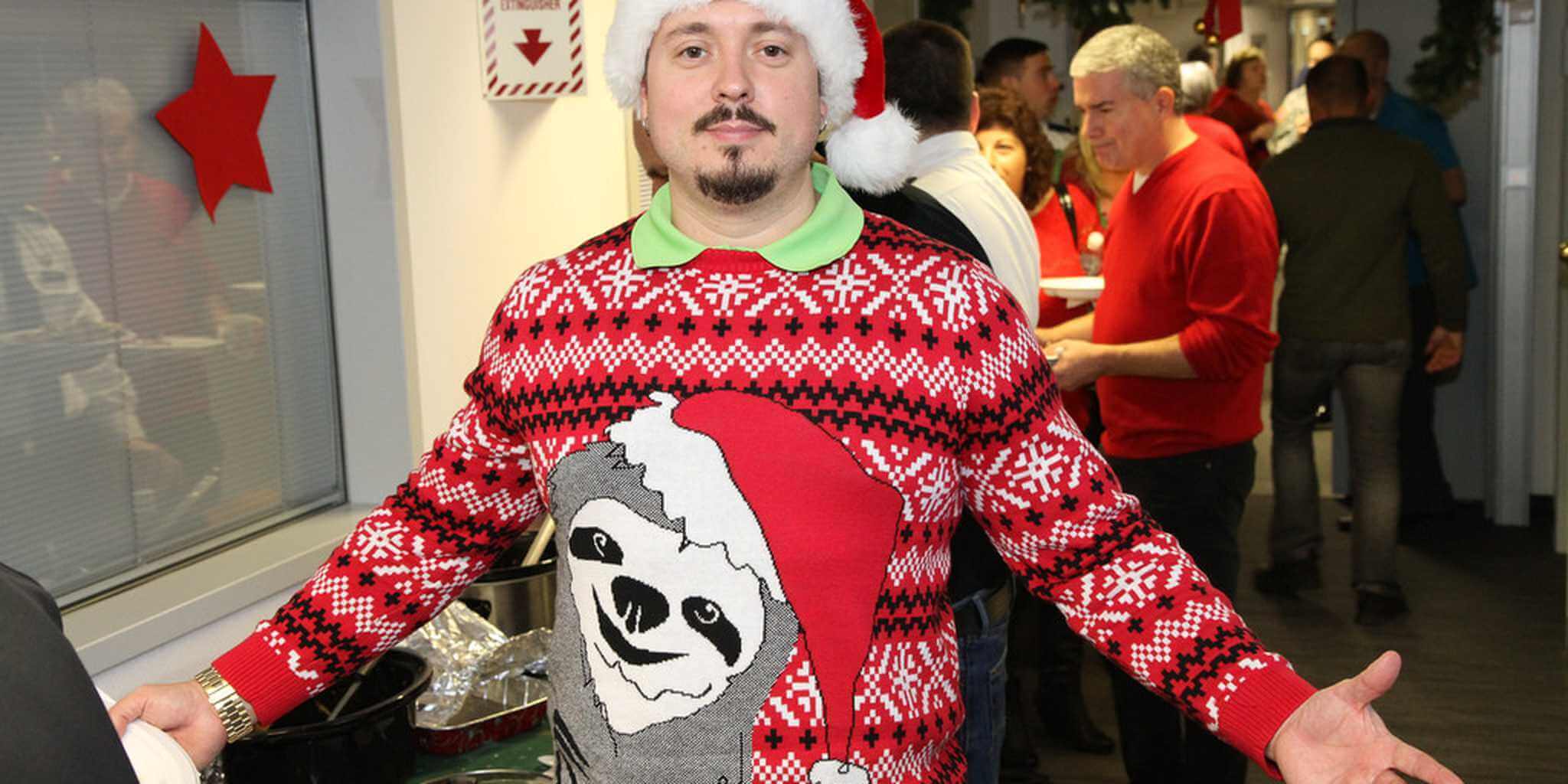 Cashing In On Christmas? Xmas T-Shirt Design Inspiration
As we enter that festive time of the year once again both the public and marketers are busy gearing up for Christmas. The frantic purchasing, giving and receiving of presents is extremely profitable for smart marketers across all industries.
For us t-shirt sellers, we're standing in the eye of the storm when it comes to unique, fun and personal gifts. In fact, it would be mad to miss out on this once-per-year opportunity to drive sales.
The funny Xmas T-Shirts and ugly Christmas Sweaters will be back in force, the question is, who's going to be getting all the sales during this seasonal shopping frenzy?
The Funny Xmas T-Shirt & Ugly Sweat Phenomenon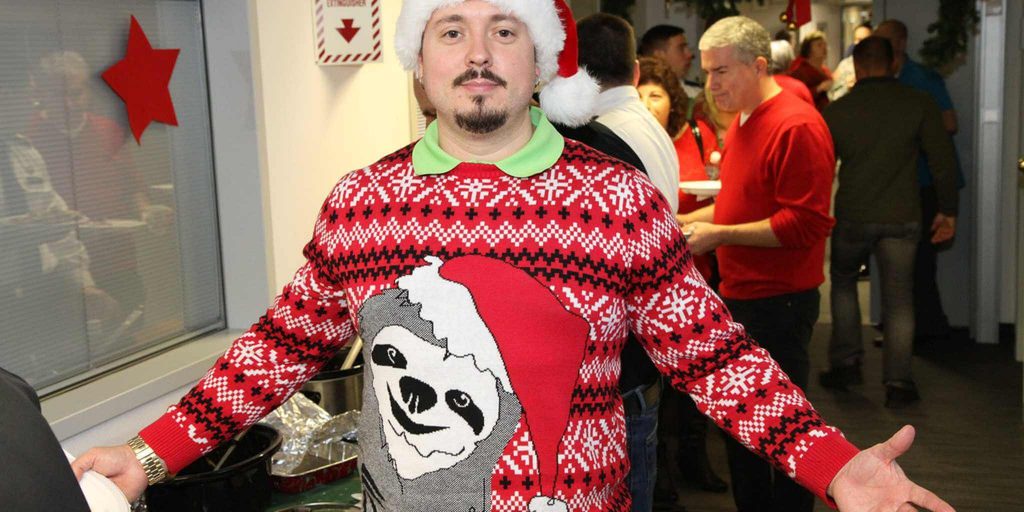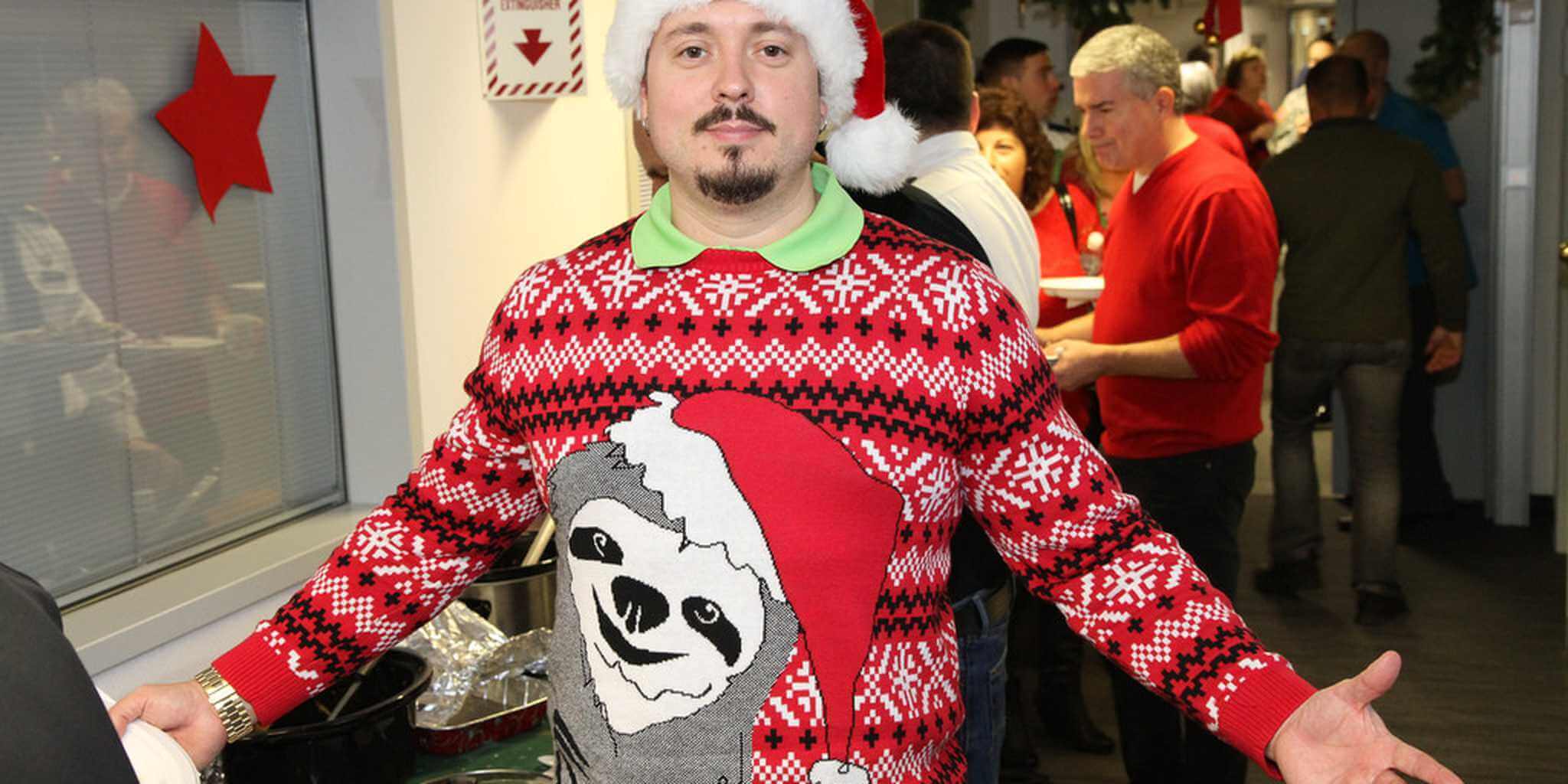 Festive clothing is never going away. But the trends that come and go are something you need to keep an eye on to excel each season.
Over the past few years, we've seen the rise of the Funny T-Shirts and Ugly Sweaters. In fact, it seems to have somehow become synonymous with this Holy holiday.
At this time of year, everyone is letting their hair down, coming together as a family and getting rather merry. It's a time where even the adults can seemingly become children as everyone shares in the Christmas excitement.
Even people who would never usually consider wearing a comical t-shirt will be sharing ugly sweaters with pride. Whether around the dinner table with family or at parties with their friends. Perhaps because their family members bought it for them to raise a smile and they feel obligated to wear them.
The key to producing Christmas t-shirts that catch the hearts of the hungry buyers is finding out what's trending, then producing your own branded spin.
Where to Find Xmas T-Shirt Design Ideas & Inspiration
Christmas is well and truly on its way and every shop can be seen promoting their best festive offerings. But it's not too late to swoop in on this market and get a boatload of sales if you can create winning designs. Here are a number of great places to start looking for inspiration:

This wildly popular merchandise store pulls in over 7M monthly visitors each month. Many shoppers come here looking for unique ways to express their personality through t-shirts, apparel, posters and more.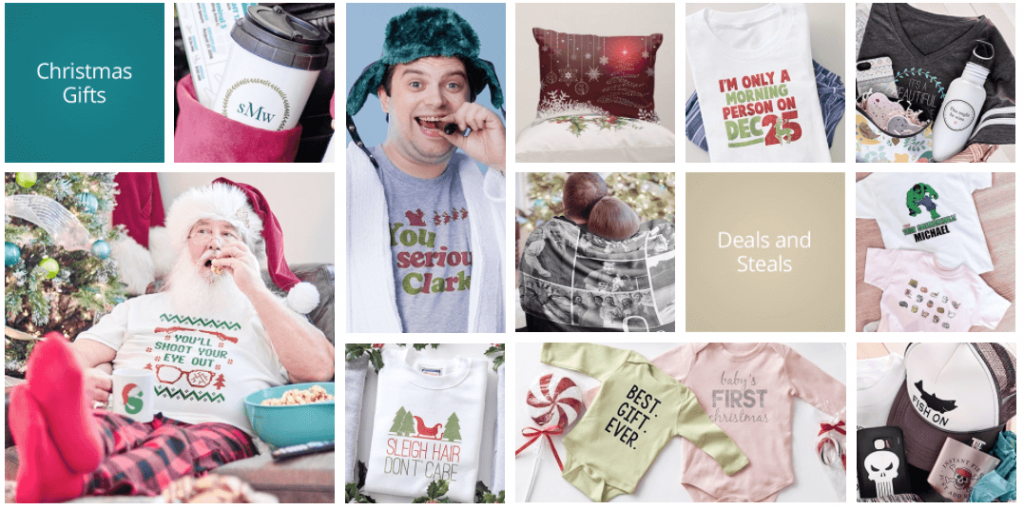 Searching through their store, they have a huge selection of Ugly Sweaters and Funny T-Shirts to get your imagination going.
Another incredibly popular merchandise store built upon a creative community of designers. They pull in upwards of 7M visitors per month too.

Tip: Even just searching for "Christmas" brings up a selection different categories that are great for getting your design inspiration going.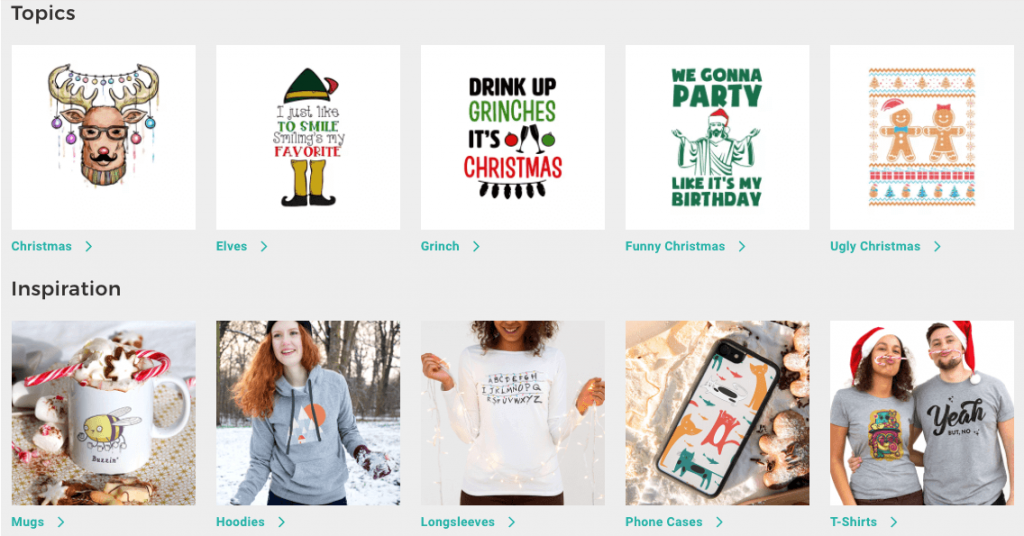 A smaller store that focuses on primarily funny t-shirts rather than apparel and accessories. They also geared up to promote their best Xmas offerings and offer plenty of inspiration.

Tip: You can filter your search results and arrange them by best sellers or most viewed to see which designs are drawing the most attention.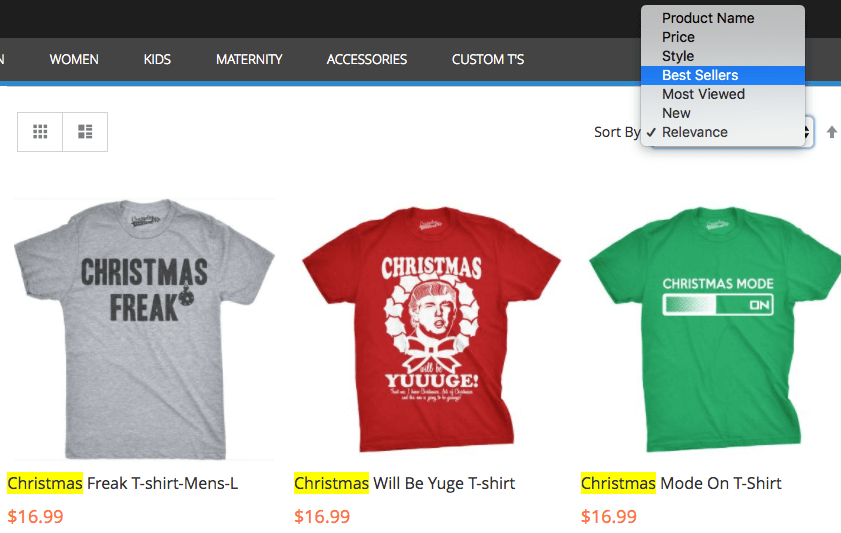 A buzzing visual social network with 10.4 million registered users and growing. It's also worth noting that their largest demographic is women between the ages of 25-34.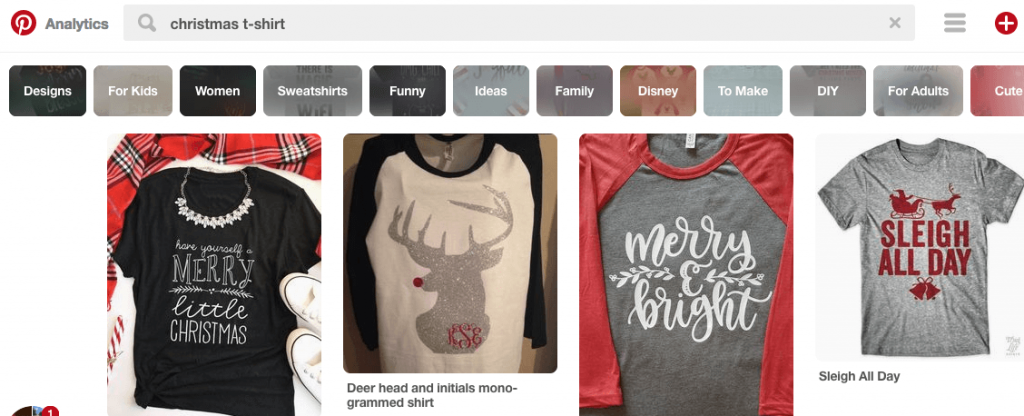 Tip: Start by searching for keywords such as "Christmas t-shirts" then navigate through by clicking related pins that catch your eye. Look of for pins that have been liked or repined the most as an indicator of interest.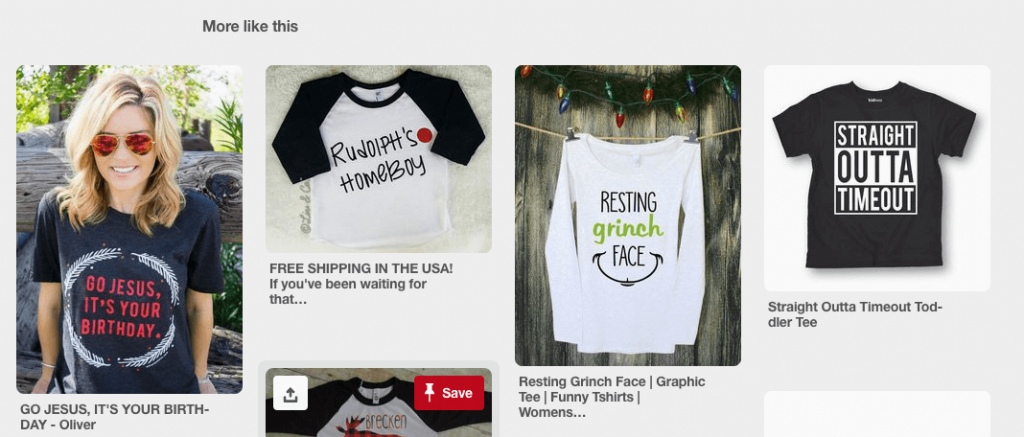 A popular e-commerce marketplace full of handmade, vintage, and unique goods for those looking to pick up something a bit more special.

Tip: Look at the suggested search terms as you type in the search bar, they can provide useful ideas based on search volumes. Also, look for stores that have the most reviews and orders to get an indication of best sellers.
A huge marketplace that connects designers with customers who want to buy-shirts and all kinds of other gifts.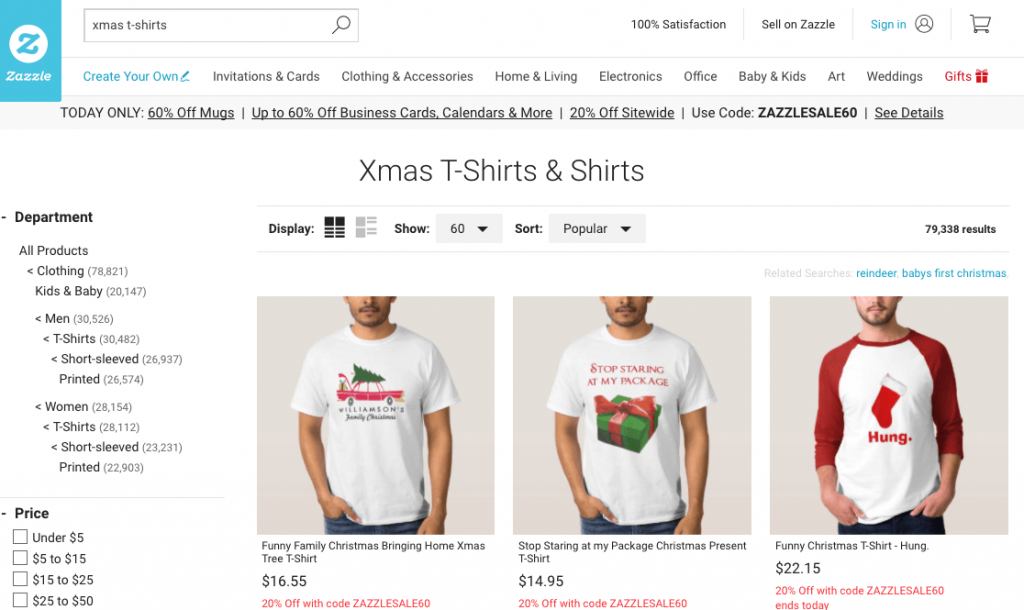 Tip: Searching through their store, they allow you to arrange their products by popularity or best sellers.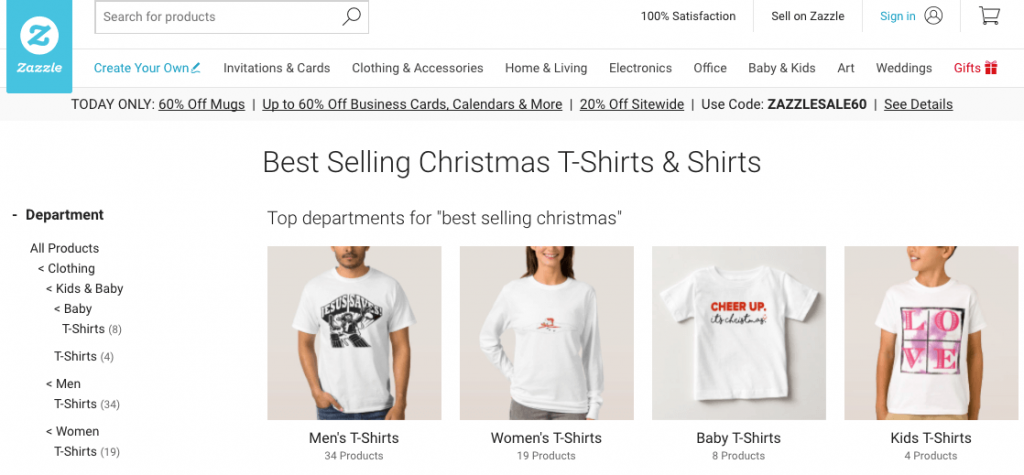 Know Exactly What's Selling Like Hot Cakes – Use TeeSpy
For those who want to short-cut the research process and jump straight to finding the best-selling t-shirt campaigns, it's time to bring out the big guns.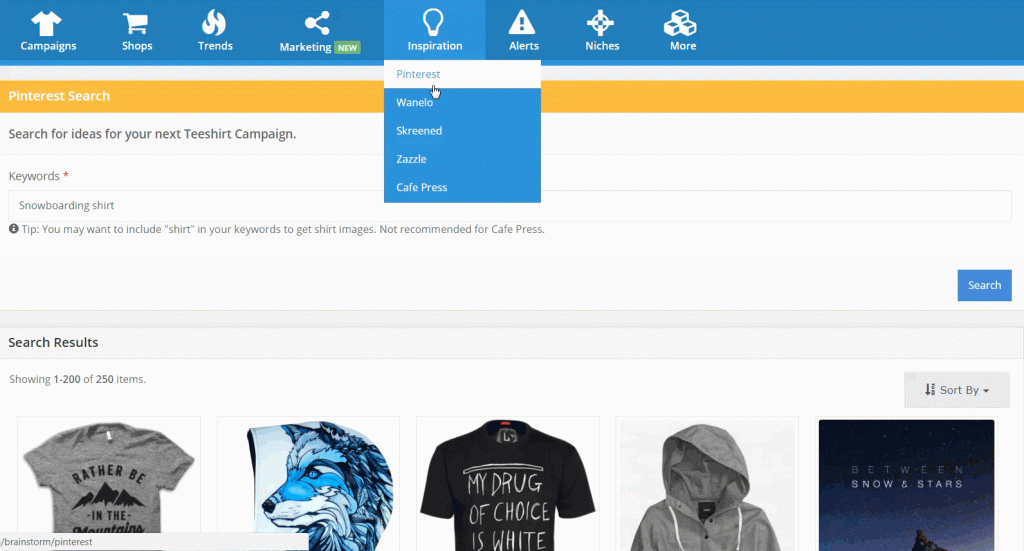 TeeSpy provides direct access to a huge database of TeeSpring, TeeChip and other platforms so you can know exactly which designs are flying off the shelves for Xmas.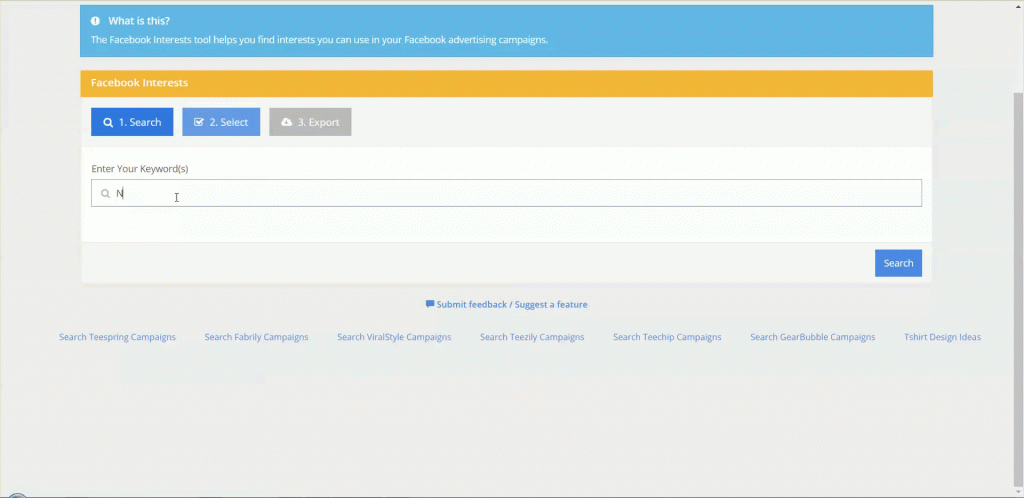 We also provide a variety of brainstorming tools and FB spy tools to get more ideas within proven high-interest categories.
By going straight to the most successful Xmas campaigns you will leave any speculation of sales behind. Creating designs inspired by the definite best sellers is the fastest way to start selling lots of t-shirts in this festive shopping storm.
Cash in on Xmas Now Before It's Too Late!
If you haven't already got your Xmas range of t-shirts up it's not too late to claim your piece of the Christmas pud! Start by researching what's popular, then narrow down to find the most profitable styles and designs to work from.
Knowing exactly which designs are already selling the most is going to give you a huge edge over the competition. Cut the learning curve and go straight to profitable designs so you can cash in on Christmas this year.