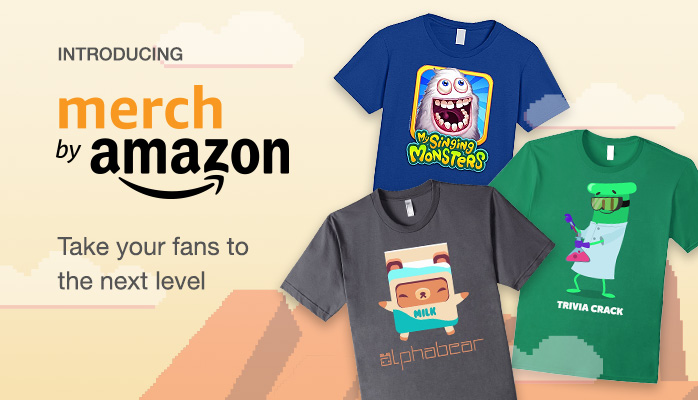 Make A Killing Selling T-Shirts Through Merch By Amazon
Undoubtedly, you've witnessed Amazon's insane market growth, and with it, FBA/private label sellers have been making money hand over first. Now with Merch by Amazon, it's time for us t-shirt sellers to get a juicy piece of Amazon's pie!
Amazon's newest offering makes it astonishingly easy to design and sell shirts, in great quantities. In fact, a quick "merch by amazon" search on YouTube and other social media sites show an encouraging number of individuals making thousands of dollars using this method. Most notably, the story of two t-shirt sellers making over $150K together!
Should I Join Merch By Amazon?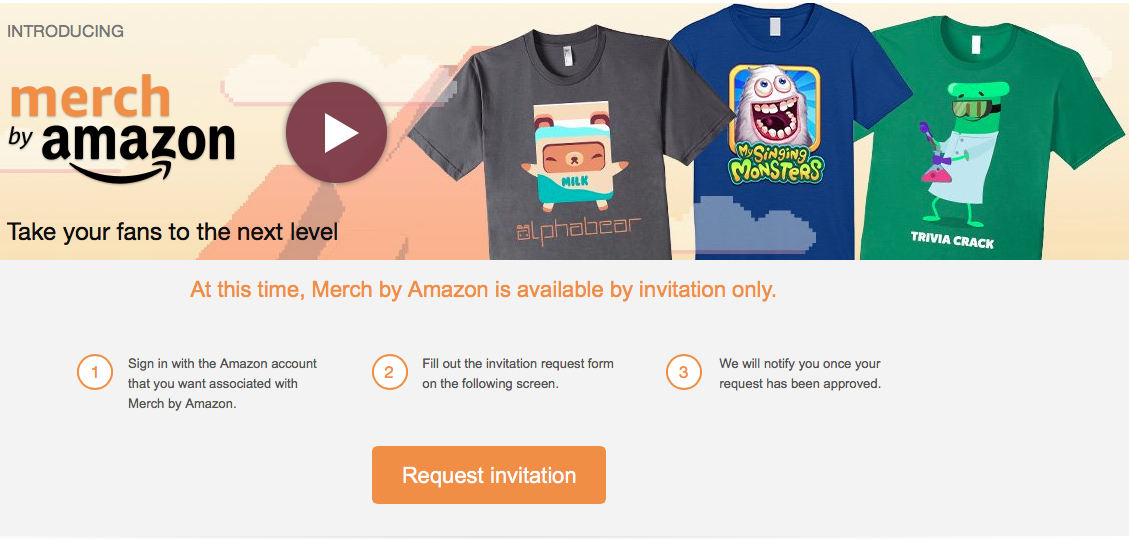 Amazon has completely streamlined the shirt design process for you. All you have to do is make the design and earn the sales; Amazon does all of the work for you, including printing, screening, and shipping, for their portion of the sale.
Compared to "regular" t-shirt fulfillment website such as TeeSpring, it's a familiar process. So what's the advantage you ask- Amazon's gold-plated reputation, marketplace, and traffic. Not only do you have an almighty storm of visitors with credit cards loaded and trusted Amazon prime accounts, you have Amazon's marketing on your side. If there's anything that can be done to increase sales of their products, by god, Amazon will be using it!
There's one small bump at this time, Merch by Amazon is an invitation-only program. The form is not complicated, with only a few fields to fill out, but it must be approved by Amazon before you get going. If you are fortunate enough to be given the all clear, you can then start uploading PNG files and start cranking out shirt designs.
The catch here is that at this time, there's no real safeguard against intellectual property theft; you can bet that as the service expands, you and others will face far greater scrutiny in the future. It's best to go ahead and adopt as many best practices now to avoid a huge headache later on (the Amazon ban hammers will be falling).
Selling on Merch By Amazon- Finer Details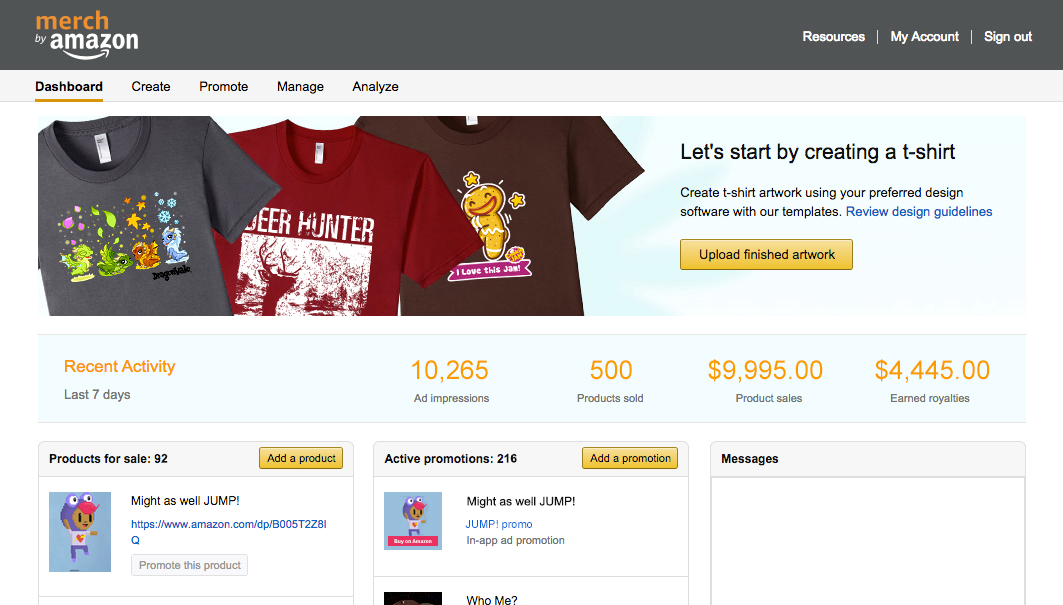 How Many Designs Can I Upload?
As of right now, Merch by Amazon is going to limit you to 25 designs. The upside is they offer easy-to-use templates to allow you to adjust image position, sizing, and other options. Luckily, as your sales climb, they will allow you to offer more designs. Think of it as proving yourself to be a professional seller. This is a great program to use to see if designing shirts are a viable choice for you.
At least initially, you'll want to stick to simpler design choices. Amazon will allow you to choose whether or not your shirts have designs on just the front, or the front and back; however, the front and back design choice will cost more, eating into your already smaller profit margins.
What Are the Profit Margins?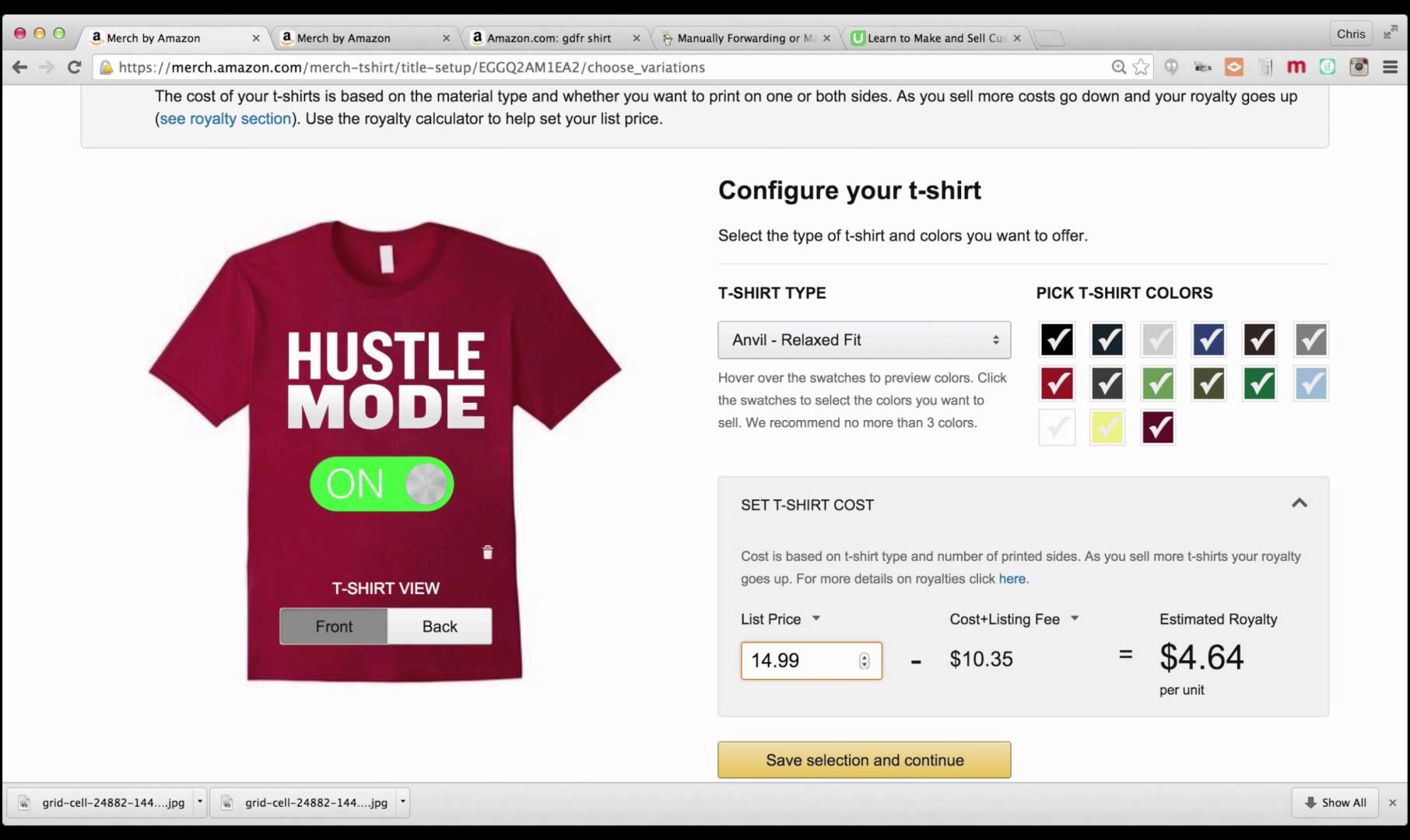 Amazon has done so incredibly well financially for a reason, so don't be surprised to see them taking most of your profits. In essence, Amazon is simply paying you royalties to use and sell your designs. Let's say you were selling t-shirts at $16, you may only end up with around $5 per t-shirt.
But before you get too disheartened, your increased selling power makes up for it. Let's say you're doing well and sold 145 t-shirts over a week. That might be $2320 for Amazon and $725 for you, still not bad at all!
It's fairer than it sounds as they're taking all the of the workload, warehousing, logistics and providing a bustling marketplace. Learn more about the Royalties from Amazon.
What Types of T-shirt Can I Sell?
CurrentlyAmazon will give you two shirt options, a relaxed fit by Anvil and a tighter athletic fit by Abercrombie and Fitch, both with separate costs. It's likely that this will expand as this sector continues to grow.
In an effort to maximize your potential profits, you'll need to make some smart design choices. While you have access to many different colors, Amazon recommends limiting this to just three color options per shirt. You'll also want to make sure each shirt has a quality description attached to it to set yourself up for success later.
What's the Process For Uploading Designs?
6 Considerations and Tips For Merch By Amazon
1. Understand That Competition is Already High
As with anything that's relatively easy to get into, there's going to be a fair amount of competition. People are beginning to catch to Merch by Amazon, so you'll still need to put in the work to differentiate yourself in a positive way. Although Amazon will help you to sell more, they're helping everyone else too. In fact, they will prioritize those who generate the most interest and ultimately, money for Amazon.
Because this is more or less a stream of passive income, it's really up to you to determine how much you'll make, based on how much time you want to put into this project. You can go the obsessive route, studying Google trends and current popular culture topics, or you can simply keep your shirts more generic and hope for the best. If you already have some form of a fan or customer base, you could use this for a slight edge; otherwise, it's going to be a little more difficult to move the sort of inventory you're trying to.
2. Stand Out from the Crowd
One of the biggest complaints from users and sellers alike, including real shirt designers with their own brands, is that Merch by Amazon has already been flooded with thousands of copycats. From ripping off third part designers to simply copying every other Merch by Amazon user, customers are having to wade through thousands of the same boring, uninspired designs, making them leave in frustration before making a purchase.
Before launching into creating a design, take a few moments to see what everyone else is designing in that particular keyword or theme. The last thing you want to do is simply add to the overwhelming pile that people are already not buying. But if you can come up with an effective design that's hard to replicate, you just might be able to cut through all of the white noise.
3. Be Aware of CopyCats (and Don't Become One!)
As discussed earlier, too many of these low-quality designers are actively ripping off brands, images, and other intellectually property they do not have the rights to. Much of these types of sellers seem to be Chinese brands looking to make a quick buck, although these scammers are popping up from all over. As a result, Amazon is actively looking for those in violation.
While they may not catch you today or even tomorrow, it's only a matter of time before you get flagged. As we said before, do yourself a favor and don't get into these bad habits.
Unfortunately, if you find yourself on the receiving end of getting your designs stolen, there aren't a whole lot of options available to you. Amazon probably won't give them the boot simply because they used your design, and unless they see shutting down a t-shirt seller from the other side of the world as a priority, they'll take care of it whenever the feel like it.
You'll have the option to set keywords for your shirts. However, unless you want to look like you're a spammy designer, make sure these keywords are relevant. In addition to setting proper keywords, do yourself a favor and set your shirts as available to the public; otherwise, no one will find them.
Using free use images for your design will help you avoid a potential copyright problems later down the line. If you can find a free to use an image that requires no royalties, you're essentially getting someone designing your shirt for free. This will save even more time and money for you, making that meager profit margin work a little harder for you.
4. Use Supplemental Programs and Tools
Templates are great and all, but only using them is a great way to have your shirts look like an amateur designed them. Even though this is more than likely your first foray into the shirt design world, it's best to have some sort of third-party design software to give your shirts a more professional-looking finish.
If you are going to use PhotoShop or other design software, just be sure to use their design templates; otherwise, you risk your shirts winding up looking disfigured or the image not being set on straight.
If you find yourself struggling to design images via software, consider hiring a cheap freelancer to do it for you off of Fiverr, Upwork, or some other affordable site for finding contract work. As long as they give you a PNG file, you'll be able to upload it on Amazon.
And if you find yourself being unable to stop making designs, keep them in your notebook; once you've moved past the initial design cap of 25 shirts, you could be selling 100 designs, 500 designs, or even more if you wish.
5. Learn as you Go
The chances of you making a handful of initial designs and simply sitting back as the sales roll in are slim. Like any business, you'll need to test and adjust your inventory as time goes on. Because your inventory will be limited, don't hesitate to give an underperforming design the axe. It's also a good idea to see who the Best Sellers are.
Amazon gives out a Best Seller Rank, abbreviated BSR, to do exactly what it sounds like; rank in descending order the top sellers on Merch by Amazon. They didn't get there accidentally, and if you can learn anything at all about how they're making so many sales, it's best to legally and ethically copy their lead. If your shirt is being ranked as a #10,000 or higher, for example, it's probably not a great selling shirt. You want that sales rank to be as small as possible, with shirts in the low thousands churning out solid profits for their designers. At the same time, you could form a niche from poor ranking design topics by finding a search term that isn't doing well in general and producing a great shirt in that topic field.
If your shirt is being ranked as a #10,000 or higher, for example, it's probably not a great selling shirt. You want that sales rank to be as small as possible, with shirts in the low thousands churning out solid profits for their designers. At the same time, you could form a niche from poor ranking design topics by finding a search term that isn't doing well in general and producing a great shirt in that topic field.
Tip: Consider running promotions and other marketing strategies to boost your sales and help reach greater ranks.
6. Use Your Fans to Your Advantage
If you've hit a creative wall and don't know what your design should be next, ask your fans. You can easily create a poll on several different social media sites, giving users several options and finding out which one has the best review. This way you can at least have a better chance of people being willing to make a purchase on a shirt they really want.
This technique has been effective, especially with those who have their own mobile game franchise. Players who are already fans of the game will be eager to pick up some merch to show their support. This can also help create cross-promotion and boost sales as you can link the shirt to where people can download your game.