Start Earning T-Shirt Affiliate Commissions (Make Money From Other Sellers!)
What if I told you there is a way to earn thousands of dollars passively, without designing t-shirts yourself? While this may sound too good to be true, I can assure you this is a potential game-changer you don't want to miss out on.
Whether you're already selling t-shirts now or not, Teezily's affiliate program enables anyone to market proven designs and earn 80% commissions. If you've already got a niche audience at your disposal, it's literally money on the table.
Curious to see exactly how you can earn while promoting both yours and your competitor's t-shirts? Read on (there's BIG surprise waiting for you at the end)!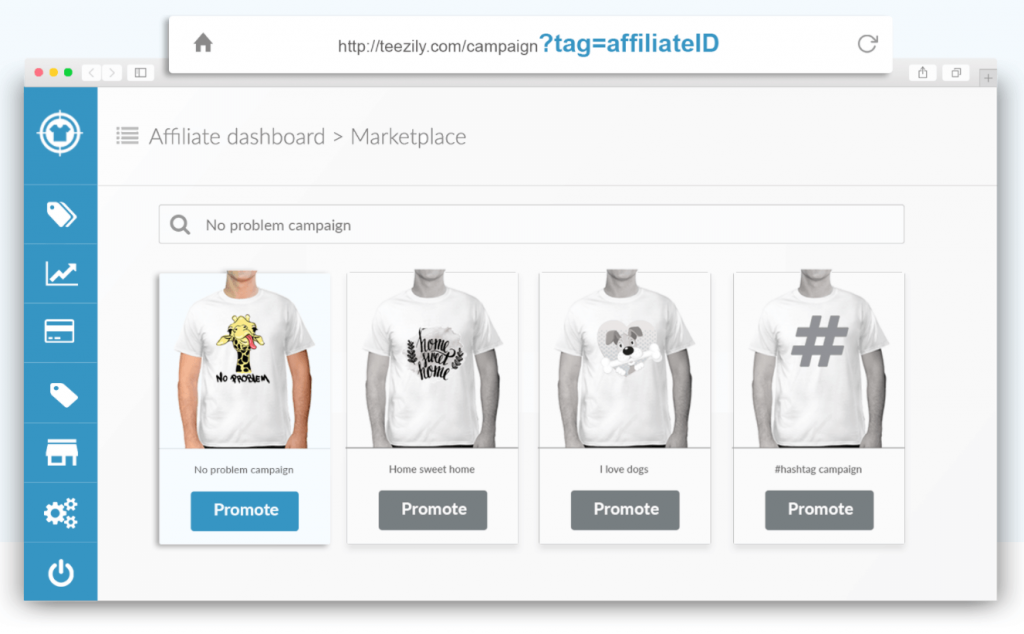 Adding an additional revenue stream from affiliate powered sales can be leveraged in three different ways:
1. As an Affiliate – No T-Shirt Designing Required
Wanna make money without getting your hands dirty with designing? It's time to start leveraging other people's awesome designs and earning!
Simply direct your audience to the Teezily Marketplace using your unique affiliate link, you'll earn 80% commissions on all eligible campaigns. If they purchase within 30 days of following your link, you'll be credited as the referer!
Even if a visitor purchases a completely different product on Teezily to the one you initially promoted, you still have a chance to be credited!
2. As a Seller – Earn Even When They Buy Someone Else's
Would you like a chance to cash in on lost customers that bought a rival's t-shirt instead? List your designs on Teezily and send visitors to purchase using your affiliate link.
If you direct customers to Teezily but they actually end up buying another product, you can still earn 80% commission if they purchase within 30 days of visiting. And of course, end up buying yours you'll still get 100% commission. It's a win-win!
Furthermore, you can opt-in and have your t-shirts promoted by other affiliates too. You can easily get others working on your behalf to sell more t-shirts!
3. As a Designer – Get Free Traffic & Passive Income
Got plenty of creative juice for creating new designs but little enthusiasm for marketing them? Start earning commission on your work while affiliates promote them for you on Teezily.
Adding your designs to the Teezily Marketplace and enabling affiliates to promote them will give you 20% commission on every sale they generate. You'll get a load more traffic from hungry t-shirt buyers while affiliates promote them to their own audiences.
Why Becoming a Teezily Affiliate Rocks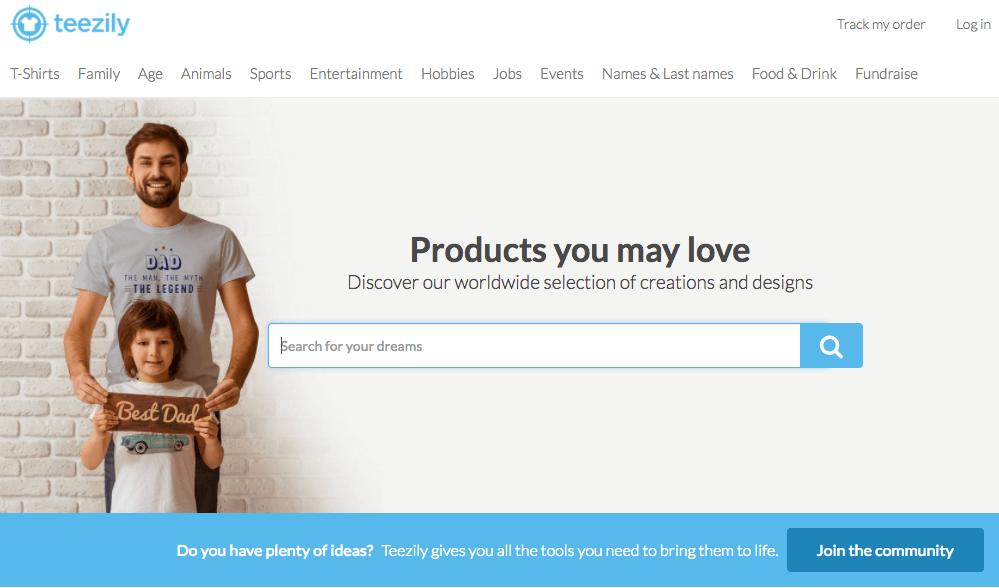 Affiliate programs have been around since the dawn of marketing. But the new Teezily Affiliate Program stands head and shoulders above the rest for t-shirt sellers. Here are the key advantages of using their program:
Higher Commissions
Few affiliate programs are as generous as Teezily right now. Offering 80% commission to affiliates is incredible. Plus designers can get a tasty 20% slice too.
Longer Cookies
Cookie cycle is critical for earning more affiliate income. The longer the cookie cycle, the higher the chance of earning a commission. Teezily offers a full 30 days after a visitors 1st click for you to earn a commission from a sale on their return visit.
Cash Out Quickly
Affiliate programs are usually plagued with the difficult and lengthy process for payout, but not Teezily. Commission earnings can be transferred out in as little as 5 days.
User-Friendly Interface
Creating affiliate links, tracking results, seeing earnings and cashing out is straight-forward and intuitive. Teezily provides a well-designed dashboard that enables affiliates to carefully monitor performance and earnings.
How Easy Is It To Use Teezily As An Affiliate?
It's super easy. In fact, you can be up and running in 10-minutes flat. Here's a quick walkthrough:
1. Creating an Account & Logging in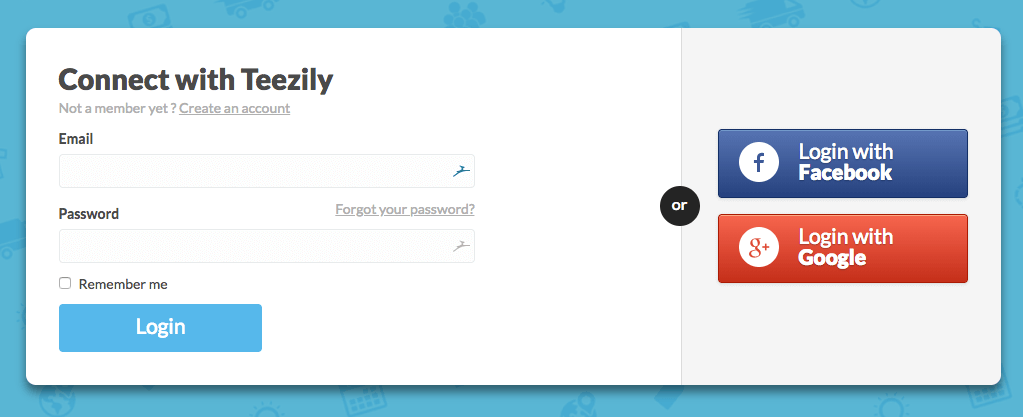 Sign up to the Teezily Affiliate Program using email, Facebook or Google.
2. Enter the Affiliate Dashboard

From the "Dashboard" page you can get a quick overview of earnings and campaign performance.
3. Confirm Eligible Campaigns & Add Your Affiliate Link

From the "Marketplace" page, you'll see your affiliate tag details on the left-hand side, this is your unique identifier that's added to the end of the links you'll promote.
It's worth knowing that not every design is eligible for affiliate promotion. Perhaps you found a Teezily design on a social media network and you want to check if it is available to be promoted by affiliates?
Simple copy and paste the URL into the "URL Tester" to see if the link is available for affiliation. Once confirmed it will generate your unique link so you can start promoting.
4. Search the Marketplace for Eligible Designs
From the "Marketplace" page, type keywords into the search bar to find new t-shirts to promote. When you find a design you like, simply click on the affiliate link to generate your unique link for promotion.
Remember, if a visitor buys another t-shirt within 30 days, you'll still be credited for the sale (if their campaign is eligible). However, if they use another affiliation link during this time, the last affiliate link clicked will be credited.
5. Promote Entire Categories
Perhaps you don't want to promote just one design, but an entire category to your audience. You can achieve this just as easily by click "promote the whole category" option below the search bar. You can go even deeper by filtering down to subcategories too.
6. View Commissions Earned
Navigate to the "Dashboard" page to see all the campaigns your clients have visited and any sales that have been generated
7. Manage Payouts
Once you've earned over the minimum threshold of $25, you'll be able to process cashouts from the "Payout" page.
8. Enter Tracking & Advanced Settings
If you're using a Facebook Pixel or Google Analytics to get a closer looks at your visitors' behavior, you can enter your ID code on the "Settings" page.
Teezily Affiliate Program Conclusion
The t-shirt industry is thriving for buyers but it's only getting more competitive for sellers. That's why leveraging Teezily's awesome affiliate program is a potential game-changer. No matter whose t-shirt design they end up buying, you could still earn a decent commission!
If you don't want to design t-shirts anymore, it's a great way to stay in the market and still earn good revenue. If you've already built an audience it's a no-brainer.
If you're a seller who doesn't want to lose out to competitors, listing your designs on Teezily and sending traffic here means you could still earn from competitor's sales.
If your a creative designer who doesn't have the drive to promote their designs, get affiliates promoting your designs and start earning here too.
Diversifying your revenue streams is the best way to increase your income and security. So sign up for Teezily Affiliate Program and get earning today!
We told you there's a big surprise and here it is: See some of the TOP selling campaigns on Teezily. You can market these hot selling designs and make a whopping 80% commission on each sale. All you have to do is add your affiliate tag and start promoting!