 Launching Instagram Sponsored Ads to Maximize Brand Exposure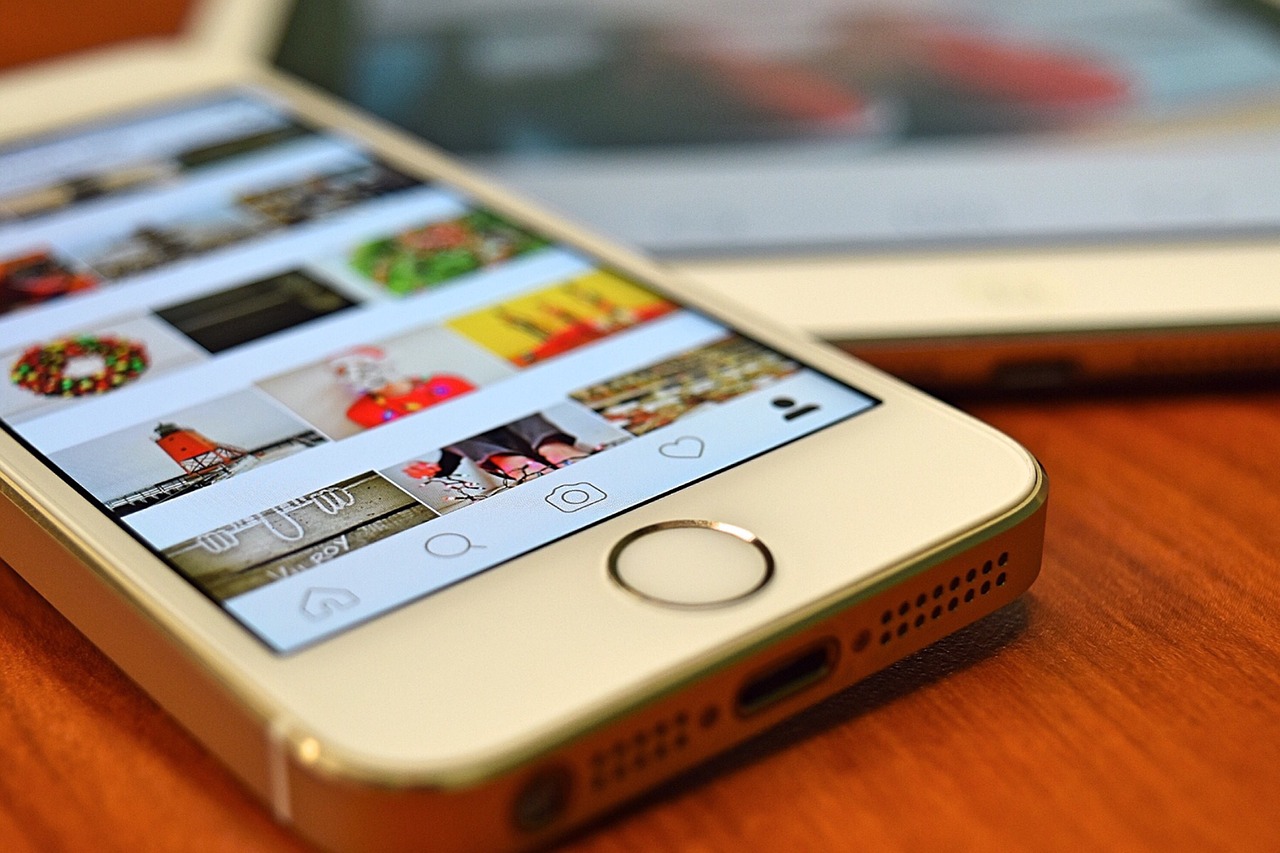 If you hadn't already realized, Instagram has been steadily gaining social momentum, big time. Facebook's earlier acquisition of Instagram was a smart move as it's now over 400 Million monthly users strong- 50 Million more than Twitter! It's fair to say that this heavily image-focused social media platform is emerging as the next frontier for social media marketing.
One of the greatest attractions of this platform for marketing t-shirts, apparel or almost any other product online, is user engagement. In fact, the ease of engagement has actually outpaced all other major social networks, including Facebook and Pinterest! Online exposure is great and all, but engagement is far more valuable for business growth and quality leads.
#hashtags have become legendary across social platforms as a great way to connect and share content to target audiences. While Twitter may have been the first and you can also use them on Facebook, the engagement they drive seems to pale in comparison to Instagram. With great images, witty captions and carefully selected hashtags, likes and comments are magnetized far more easily than other platforms.
Getting going on this platform is incredibly encouraging for businesses, brands and t-shirt sellers alike.
Organic growth here is actually still very worthy of the time and effort. But the recent addition of paid advertising methods can be used to really help brands take off. If your brand isn't on Instagram yet, now is the time to establish your t-shirt brands here!
Linking To Your Store and Products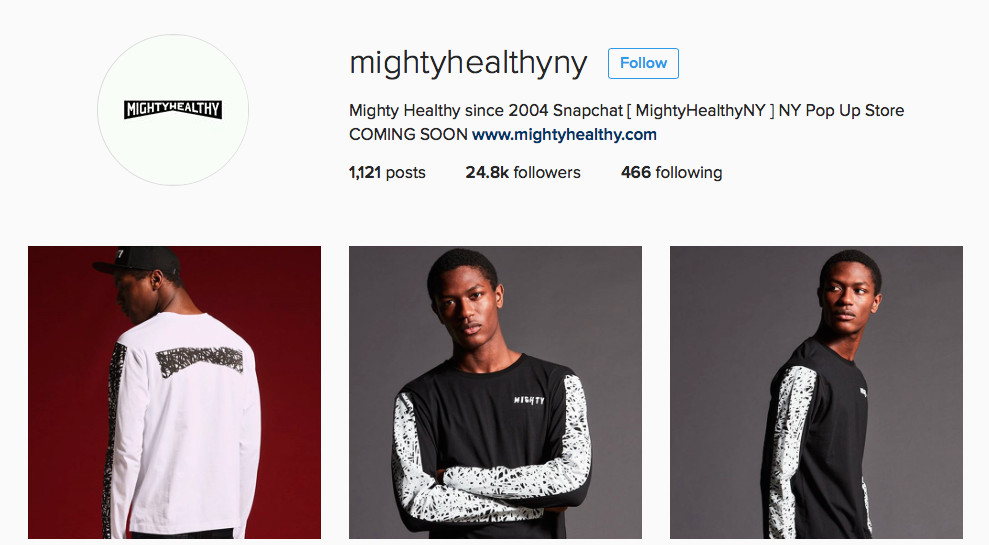 Previously, the biggest gripe of using Instagram for marketing was the lack of ability to include clickable links in posts. While you can include a link in a post or comment, but it's not going to be clickable like a hyperlink is- and that's not going to be even half as effective. As a result, your only way to send visitors to your store was by using a link your bio, but you only get one. This made debuting new/specific products quite difficult by requiring manual changes to your bio to suit.
Fortunately, Instagram posts can now include clickable links – if they are sponsored posts. This is hardly surprising; after all, we are seeing the rise of paid advertising across all major social media channels. However, if you carefully select which posts to sponsor you can greatly boost exposure and drive more visitors to your store.
What About Influence Outreach?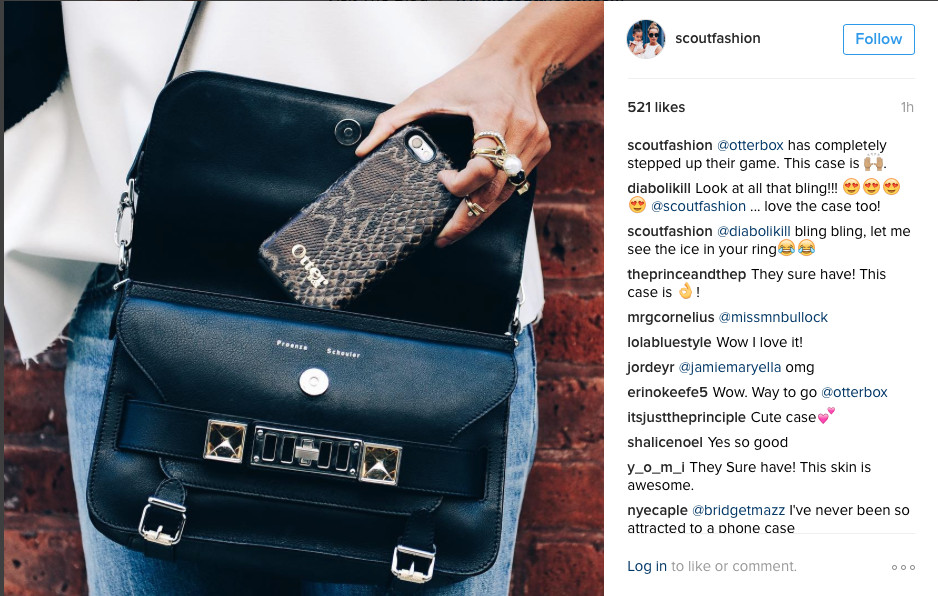 Prior to the sponsored post feature, the only way to boost exposure was to track down key influencers in your industry. Your only choice would be to strike private deals for them to cross promote your brand/products/account to their audience. For instance, you may even consider seeking out an Instagram "celebrity" and have them flaunt one of your t-shirt designs with a link back to your account.
This "word of mouth" creditably could range from ineffective to incredibly effective and the level of compensation could vary wildly. To get this right, you would have to very carefully select influencers based on their audiences and hope you can negotiate reasonable rates.
Having a credible endorsement could certainly help give your brand a bump and a little cool factor, yet there is no guarantee this will be a profitable endeavor, or scaleable for that matter. What's more, they were often quite expensive, consume time searching or negotiating and provide virtually no accountability for results.
Influencer outreach still very much has its place in the marketing arsenal and it may still be worth investigating later. However, Instagram's sponsored posts are a sure-fire way get going on Instagram for us t-shirt sellers.
Using Facebook's Advertising Platform – Wait, What?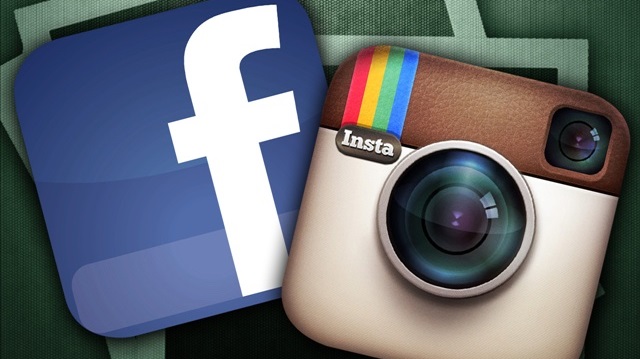 One advantage of Facebook's acquisition of Instagram is they have brought in their legendary advertising system. Facebook's advertising platform is an absolute powerhouse of targeting options, customizability, and campaign monitoring stats. This enables you to carefully define your audience, design appealing ads and track results without giving yourself a headache!
One possible change to watch out is if they decide to phase out organic, purely chronological news feeds, in favor of paid advertising dominated feeds. While this is not yet the case, it's likely there will only be growing emphasis on paid advertising across this channel with Facebook at the wheel.
The Key Factors To Consider Before Beginning
Question 1 – What Is Your Objective?
If you're already familiar with Facebook advertising, you'll be glad to see Instagram following in suit. As you begin, the interface encourages you to select an objective and help you optimize your ads to achieve these goals. Along the way, you have clear control over budget, duration and targeting options.
One of the biggest factors to consider is whether you are trying to boost your following on Instagram, drive them off them straight from platform to your store to purchase. Both these goals will require different campaign strategies and call to actions. Obviously, your ultimate goal will be to drive sales of your t-shirts, but there's a variety of different ways to go about it. Consider experimenting with each before going "all in".
Although you'll be creating your Instagram ads from the Facebook platform, the available campaign objectives do differ slightly. For Instagram, you'll find the following campaign objectives available:
Clicks to Website
Website Conversion
Mobile App Installs
Mobile App Engagement
Video Views
Reach and Frequency
Page Post Engagement
Choosing a single objective for each campaign and staying true to is vital for making the most out of your paid advertisements. Conversely, selecting the wrong one or chasing two with one campaign could be detrimental. Fortunately, objectives are fairly self-explanatory.
For instance, if you want to drive more sales from your Instagram account, you would choose the "Website Conversions" objective. This will help optimize the transit of Instagram followers to your site with the sole intention of converting them to sales.
If you're a new brand or at least new to Instagram, it would be wise to focus on building up your followers first. For this, you might choose the Page Post Engagement option to quickly build up your own personal community.
If you are interested in leveraging video posts, which can be incredibly effective if used correctly, use the Video Views Objective campaign to boost your video's exposure. You'll quickly see your video post go much further than it could with hashtags alone.
Question 2 – Who Are You Targeting?
Unlike the objectives, Instagram targeting options are the exact same as they are with Facebook ads- and this is a great thing! First, you'll need to set up your general target audience by using features such as countries, demographics, interests, behaviors, and other factors. Targeting the right audience is going to be crucial to the success of these campaigns. After all, if your brand was targeting women based in the US, anything outside of these parameters would be wasted ad spend!
It goes without saying that your audience will be highly dependent upon your particular brand. As general advice, try to achieve a good balance of broad and specific, test out different sizes and factors to see which provides the best results. Remember, too broad could result in wasted ad spend, whereas too niche could still be expensive and exclude hundreds of potential customers.
Instagram Ad Creation Process
Step 1 – Linking Facebook to Instagram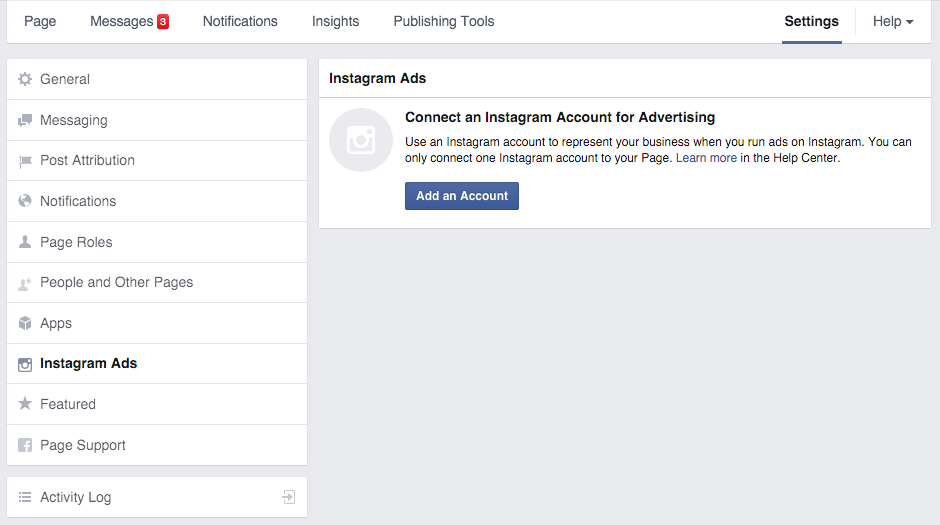 Now you're ready to start creating your Instagram sponsored posts, the first thing you need is a business page on Facebook. From there, just go to your account settings and click the "Instagram Ads" option. Next, you'll need to select "Add an Account" and enter your Instagram account credentials. If you don't have an Instagram account already, you'll want to set one up now!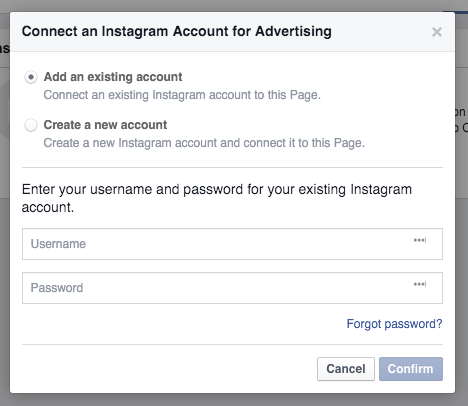 Step 2 – Creating a New Campaign
With your Facebook and Instagram accounts now aligned, choose the "Ads Manager" screen to create your new ad campaign. Under Ads Manager, click on "Create Campaign" to begin.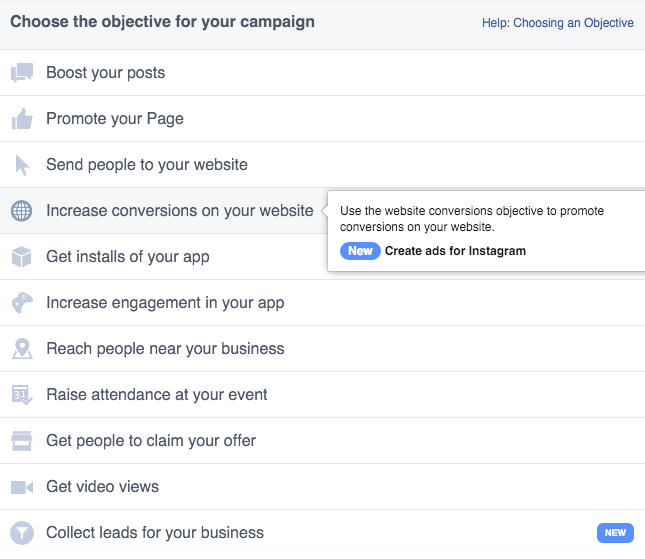 You'll be presented with the previously mentioned campaign objectives. Remember to keep in mind the end result you are trying to achieve. One point to note is that the list also includes objectives exclusive to Facebook. But luckily, a popup will let you know whether or not available for Instagram. You can hover your cursor over the option to see this.
If you've ever utilized the awesome conversion pixel feature from Facebook, you'll be pleased to see they can also be applied Instagram ads. However, your conversion pixel only works with the "conversion" objectives, such as "Increase Conversion on your Website".
Step 3 – Create an Ad Set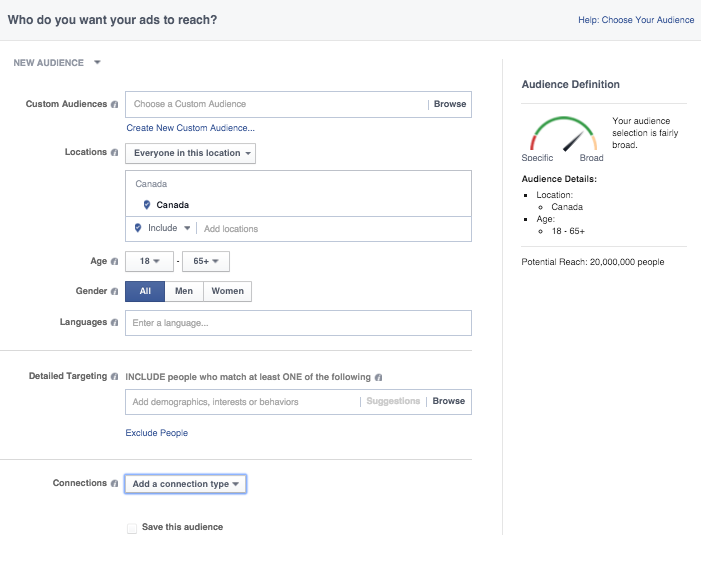 The next thing to do is to create your Ad Set. This is where the different demographics and/or target audiences come into play. You may choose to use any existing Customer Audiences that you are already using, or create a new one at this time.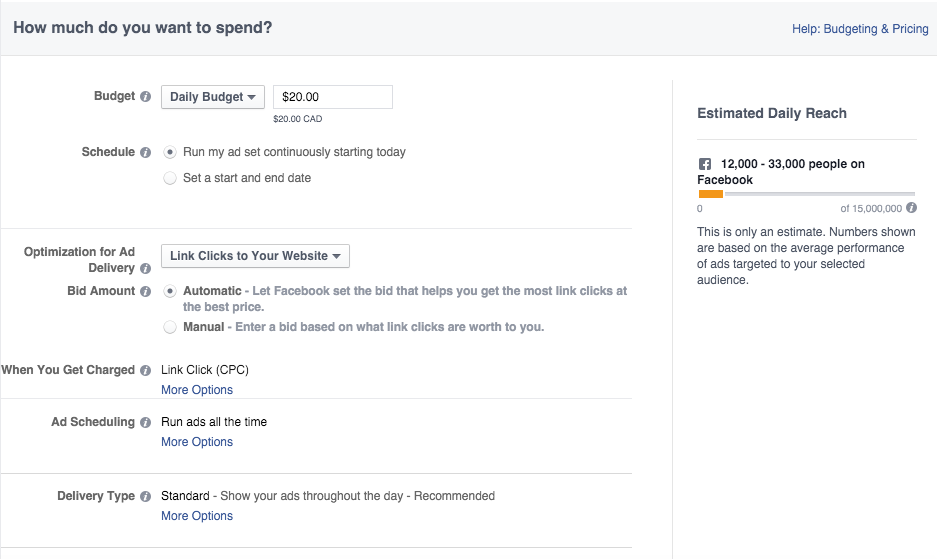 You should consider your budgeting carefully, especially in the beginning. If you're running your first campaign, start out small and scale up as you become more confident. Higher budgets will be very useful later on, but your first campaigns will be treated as highly experimental.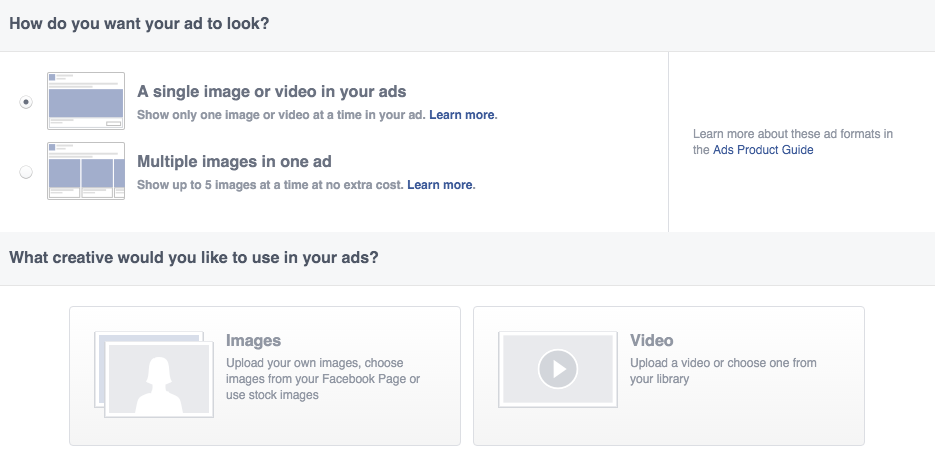 Once you've set your budget and audience, just select "Choose Ad Creative". This will create the shell of your ad before you fill in its content. The next option is going to ask you to include one or more images or a video in your ad. Remember, social media is highly visual and media will be picked up far quicker than text.
Once you've finished selecting your media options, you can add in your preferred content. On Facebook, this will look like all the other ads you see on the site; on Instagram, it will look like a post caption. This is also where Instagram will allow you to customize the clickable link you are advertising.
The great thing about using the Facebook-integrated ad creation tool is that it will actually allow you to see a preview of how the ad will look once it's on Instagram. This allows you to see what needs to be fixed before it goes live, all without having to switch over to Instagram. You will also have the option of running your ad on both Facebook and Instagram, or simply one or the other. If it all looks good, all you have to do is select "Place Order".
Step 4 – Rinse and Repeat
Once you've really got the hang of it, making future ads becomes much easier. Current ads can be maintained and monitored from the Ads Manager tab. There's a great range of analytics available on this platform, so make sure you use them to optimize your adverts!